Super Monsters Ate My Condo is like the original Monsters Ate My Condo with some things added to it minus Endless mode. [adult swim] and Pikpok's block matching puzzle app is for the iPhone, iPod Touch, and iPad with the iPad. It requires iOS 4.1 and can be played on the iPhone 3GS, 4, 4S, 5, iPod Touch 3rd generation and up, and any version of the iPad. Some new features are clock and nuke condos, boosts that grant various effects such as activating certain monsters' ability for the first thirty seconds of the game, and the monster wheel which gives a reward depending on your luck but it only appears when the timer runs out. The object of the game is the same since you are trying get an outrageous score that will soar into the mesosphere in under two minutes.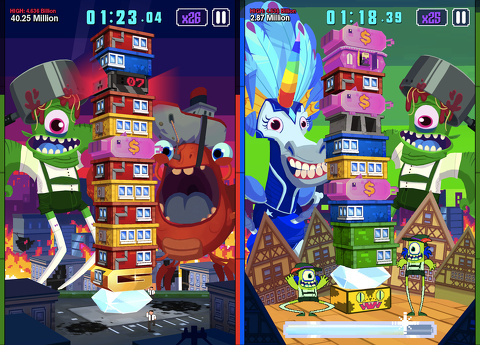 Slide a condo to the left or right to feed it to a monster. The monster will be happy and give more points when you feed it a good condo. (same color as the monster, cat condos, etc.) Depleting the respective color bar of a monster will make it attack the tower. Match three or more of the same color condos to upgrade them and eventually allowing you to reach Mega Zone. Feeding a monster certain condos like bronze, diamond, cat will activate its power. Boosts help you during the game but costs coins or can be free if you get it from the monster wheel. Some boosts only last for a short time. Coins are used to buy hats which increase your multiplier, boosts, and the Orient Express event which increases the multiplier, speed of the game, and the monster's anger rate. New condos like the clock, multiplier, piggy bank will increase your time, score multiplier, and coins. Be careful of acid and nuke condos since they can eat through your condos or end your game when they count down to zero. These condos must be used in any type of match to get rid of. Like the original there are some problems with this game such as there is a chance to move a condo when you don't mean to, the dog's multiplier increasing power has been tuned down, the load time is increased greatly to me, the app crashes every now and then on my iPod Touch 4G 32 GB. It can ruin a score or some goals. Goals reward you with new condos when you start out then just coins. Goals can be skipped with coins, use them when they get too hard such as making twenty diamond condos in one game. Despite the negatives, the new additions make the game rewarding. This is a universal app that has Game Center support, achievements, and leaderboards.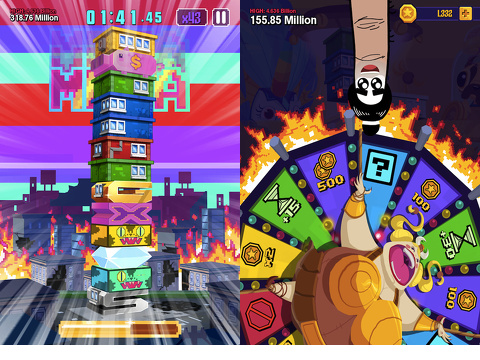 I didn't see much of a difference between this app and the original app's graphics. This one is slightly less pixelated than the other game. Both apps are still colorful and wacky. You can see the new blocks and some of them have special effects like the nuke making a quick mushroom cloud when it explodes. There is a helpful How to Play section to check up on gameplay mechanics.
Audio is also the same to me. The music is wacky and upbeat. You can hear the giant opera singer sing when you lose or other monsters making various noises. It does not have the track I like when you pause the game. You can turn the music and sound effects on or off.
Super Monsters Ate My Condo is $0.99 on iTunes just like its predecessor. Unlike the original, this game has in-app purchases for buying coins but it is not necessary. Using Facebook and/or Twitter will give you a hundred coins. The game has multiple languages to choose from under options. I recommend setting the auto renew boosts to off. Unlike the first game, this version keeps track of your statistics such as how long you've played, what matches you've made, matches in one game, what powers you've used, etc. I did not like the loading time and no endless mode but the new additions made the game more entertaining, I just wish it wasn't on a separate game.