The Letterpress Word Game for iPhone, iPad, and iPod Touch is a fun combination of Scrabble, Words with Friends, and Draw Something tied together beautifully with its slick, modern look. The spartan, yet visually appealing interface and tools create a false sense of ease, as this is a game of true nerding. Creating complex words from the selected letters helps you earn points and claim coveted squares on the board.
When you open the Letterpress Word Game iPhone app, you are greeted with a blank white background instructing you to connect your Game Center account. Then, you move to a concise, well-written description of the game play. You can always tap the more icon to access the parameters, as you grow accustomed to the gameplay.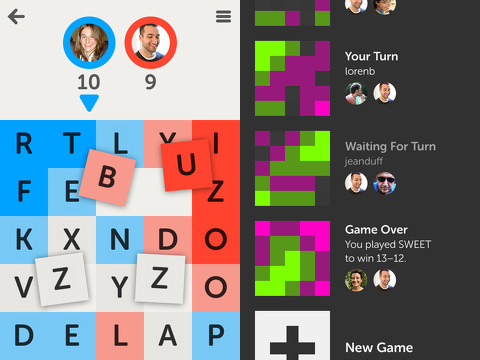 To play the game, you may choose a randomly selected person or a Game Center friend. For the free version, you can have two Letterpress games active. For the in-app purchase of the full version for $.99, you can have multiple games and different colors. You and your opponent simply take turns creating words from the letters in the matrix grid of 25 letters. Just like an Electoral College map, you gradually fill each square with your color. You can use your opponent's squares in a word to take away their color. When you have used several letters in a row, your color becomes even more bold. Your opponent can use this bold letter in a word, but can only take away the bold when the surrounding letters are used in the same word. The game is over when the entire board is filled or both players pass.
In the Letterpress Word Game iPhone app, you can certainly play with simple one syllable words. It does, however, reward the thought and consideration of a multiple syllables. Simply put, longer words translate into more squares and points in your column. As an additional challenge, you cannot duplicate words or the first part of a word.
This is one addictive game. The Letterpress iPhone game doesn't just have great looks, but it also has brains. It's the best of both worlds–impeccable, uncluttered design and compelling gameplay.