The Symbol Link iPhone, iPod Touch, and iPad app is a fun, addictive puzzler. The free download from the iTunes App Store includes three groups of puzzles created in collaboration with Tetris's Alexey Pajitnov. The interface is simple, and the gestures are intuitive. The game play requires thought and perspective, but it is accessible to a large group of users, including kids.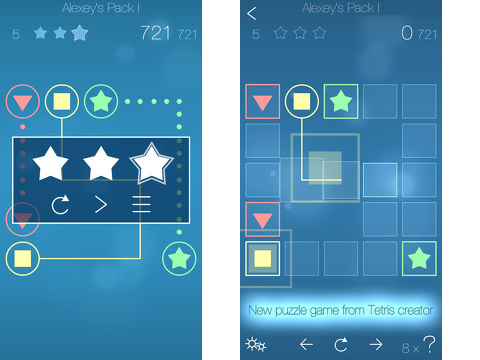 The game interface is called a "playfield." The background is blue, and squares fill the middle of the screen. The layout of the squares is not static, as it changes from puzzle to puzzle. There may be missing squares, and squares may not always form a perfect edge. Certain squares have a symbol – like a star, square, and arrow. There are always two of each symbol. It is your job to connect the line between the same two symbols by swiping the route between them. The gesture is similar to the Flow iPhone app.
There is, however, more to the game than simply connecting the paths between the same symbols. You must order your gestures to create the most efficient paths between the symbol boxes. I find success when I complete the path that simplifies the paths between the other symbols. Interestingly, the path that creates more direct routes is not always the longest or most convoluted. The shortest, most direct route may be the path that leads to completing the puzzle quickly.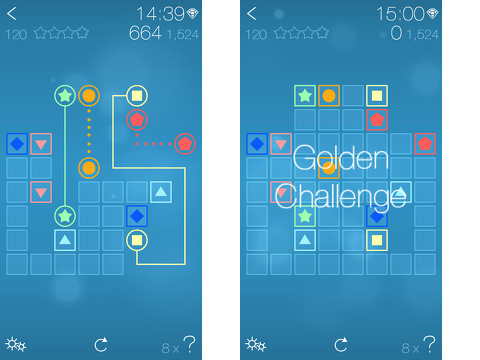 The challenge of the Symbol Link iPhone app is the constant shift in strategy between puzzles. You have a new layout for the playfield, and your mind must run through different scenarios – go short, go long, or weave in and out. It is refreshing to find a game without a tried-and-true approach for every puzzle.
You can also check out different play modes to add a new dimension including play against a clock, single touch, bonus, and longest road. These are fun, but I prefer the traditional play mode.
The Symbol Link iPhone, iPod Touch, and iPad app is addictive, challenging, and cool. After you run through the 600 free puzzles, you will have no trouble buying additional puzzle packs.