Facebook + Pinterest + GameCenter + your workouts equal the Fitocracy fitness iPhone app. Fitness social networking is delivered with this thorough iPhone, iPod Touch, and iPad app. You can track your workouts and daily activities; connect with other fitness lovers; earn points; find motivation; and share your hints, tips, successes and failures within the Fitocracy iOS app network and your existing social networks.
The Fitocracy iPhone, iPod Touch, and iPad app has a longer, more involved registration process, but the wit and humor of Fitocracy and its benevolent robot leader Fred make it engaging and fun. You sign in with "old school" email and password or via "new school social authentication" from Twitter, Facebook, or RunKeeper. You choose a picture from your library or shoot one from within the Fitocracy iPhone app. You select a username as well.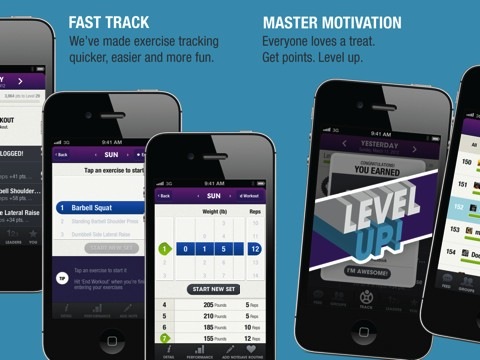 The Fitocracy app on the iPhone features several smart defaults. You can opt out of receiving email notifications with a touch on the screen, but you do so only after the warning, "I know it makes FRED sad, but I don't wish to receive any emails." The default also keeps your age and weight off your profile. And, just in case you check your profile after set-up, you are assured you are the only person who sees that information. You connect with Twitter, Facebook, or RunKeeper to find your friends. If you don't want to connect, you will be able to follow others with similar interests like Pinterest or Twitter. With a function similar to LinkedIn, you can follow groups started by Fitocracy members.
You can choose from general groups who like cycling, running, and walking, as well as highly specialized groups for long distance running and women power lifters. The range and level of fitness activities is impressive, so anyone new to a fitness activity will find a place just as easily as someone who has been at it for twenty years. Another bonus of the thorough registration process is your news feed is filled when you open the Fitocracy iPhone app the first time. Nobody likes a blank screen on a social networking iOS app.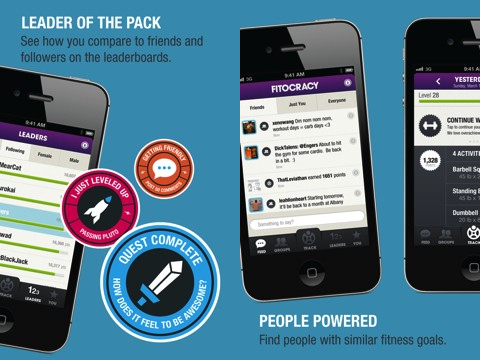 The navigation and functionality is reminiscent of Instagram. From a menu bar at the bottom of the screen, you move back and forth between your profile, the leader board, your groups, your news feed, and tracking your workouts. You can comment, enter status updates, save a workout for later, and give "props." You don't "like" in Fitocracy, but you fist bump and give "props." You can track your standings in the Game Center-esque Fitocracy Leaderboard. Your profile is a neat layout and navigation. Each section of your profile is a thumbnail. You touch the thumbnail and a screen opens with more details. For example, you can check out your list of logged workouts by selecting "activities."
As you navigate in profiles, you can pick specific information that interests you. The Fitocracy iPhone, iPod Touch, and iPad app is also filled with motivation and achievements, so you can earn more points and move up in the leaderboard. You can find those on your profile as well. When you track your workouts, however, the functionality and navigation becomes less seamless. The Fitocracy fitness iOS app gives you the opportunity to log multiple sets of a weight activity. Because of this ability to be extremely precise, there are more details and options that seem overwhelming when simply entering your morning run. You can enter notes and customize details, then you can save and share with your Twitter and Facebook friends.
The Fitocracy fitness app for iPhone, iPod Touch, and iPad lets you track every crunch, and you win points and validation for your sweat. It has tremendous range and function for the free price tag.