The Typic iPhone app creates elegant captioned photos with smooth, simple, & intuitive navigation. Featuring carefully streamlined options for enhancing photography and manipulating the text's appearance, the Typic iPhone app gives you everything most would want and need for the amazingly low price of free.
There is a clear, methodical process that is easy to monitor and follow to create your captioned photo. You can see the five steps required with the dots at the very bottom of the screen. First, you snap a photo from the in-app camera or select one from the camera roll. There are five photo filters that may be applied. The photo filters play with light, so you can choose a brighter, bolder light application, a soft one, or a black and white one. There are no distortions or textures when you select a filter. The photo is quickly transformed, so lags resulting from processing time do not exist.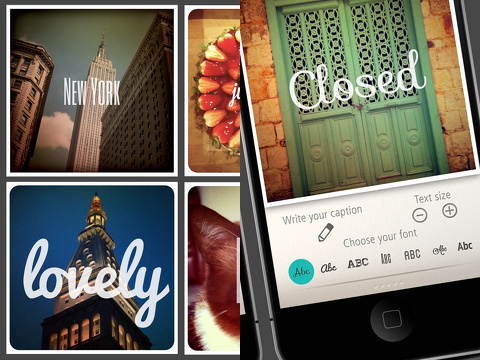 You add text to the photo with the Typic iPhone app's excellent interface. The tools are clearly identified and organized concisely at the bottom of your screen. You choose from seven fonts with a tap on your preferred font. There are no font names, just "a,b, and c" written in the font. You touch the pencil icon and type. The caption appears on the screen. You can increase and decrease text size by tapping the minus and plus icon. When you have completed your text, you can drag it with your finger to your preferred location on the screen.
To add texture and dimension, you drag your finger across a volume style control to manipulate the text and tap the plus and minus icon to blur. You can also adjust the size and color of the frame with responsive gesture controls.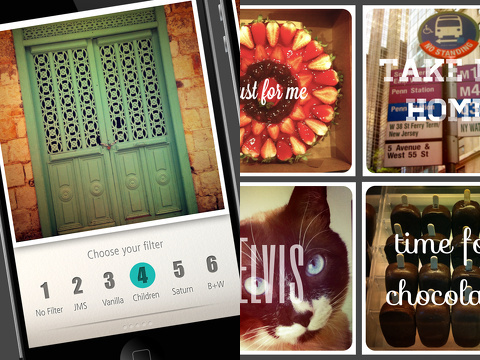 When you have completed your Typic iPhone app captioned photo, you can share it easily. The share features are simple one-touch icons that allow a quick text or email, as well as Facebook, Twitter, and Instagram syncs. The Typic iPhone app produces lovely captioned photos to enhance your blog and Facebook timeline, or your Typic could simply lift a friend's day.