If you are looking for a job and have an iPad, you'll want to download the Mobile Resume Pro app. It has great features and excellent capabilities for a smaller investment than the cup of coffee you just bought at Starbucks. For $2.99, you can create a resume quickly and shared it easily, so you can score your next interview.
The resume you create with the Mobile Resume Pro iPad app has a clean, efficient vibe. The home screen embodies this simple aesthetic. You add a new resume with a touch. Each section of your resume can be accessed in any order you choose to build your perfect resume.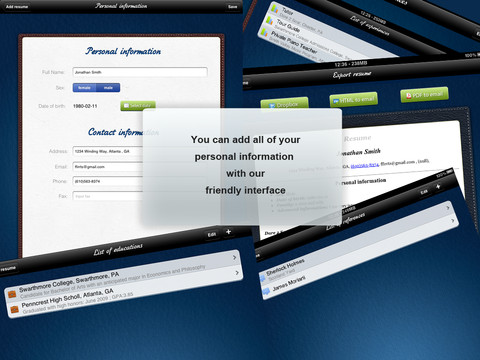 With a few taps and touched, you'll update your personal information, education, experience, references, skills, other information, and sharing options. Each category of information has fields to complete with pertinent data. If you choose not to add a piece of information, then the missing item is omitted from the final resume. That's a nice feature, as you certainly don't want to present yourself as incomplete. You add each position and skill, and you have an opportunity to expand on that item with additional comments. Again, this is another quality enhancement allowing you to highlight your strengths and underscore any weaknesses.
When you have completed your resume, you can check out the excellent and expansive sharing options. By enabling simple design and delivery, the important content generated to land your next job may be easily read by different mobile devices, computers, and formats. Mobile Resume Pro for iPad has five different fonts with simple layouts. Categories are centered, and the details are justified on the left side of the resume. The font chosen is sized, italicized, and bold-faced to lead your eye visually through the resume. You can save your resume to Dropbox. You can share your Mobile Resume Pro resume via HTML file and PDF file to your contacts via email. You may also choose to print from the Mobile Resume Pro iPad app.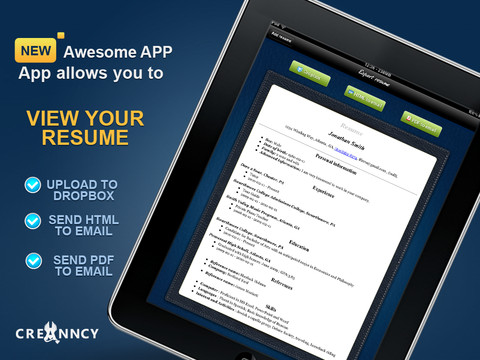 To improve the Mobile Resume Pro iPad app, I would make a couple of recommendations. First, it would be great to be able to use details from one resume in another. When you are marketing yourself for a specific job, you want to tailor your resume. It's a drag to rewrite a complete resume. For example, once you have entered a skill, you could choose to add it to a new resume and have the opportunity to customize it more. Second, the personal information should be divided into separate fields. If the address and telephone numbers had separate lines, they would be easier to find. Currently, they are in a long string. You don't want someone to work hard to call you for an interview, or hopefully, offer you the job. It would also be great if this was a universal app with support for using it on the iPhone to enter your data, with iCloud support for storing your data.
If you just want to sample the entry features out quickly, there is a free version of this iPad app you can download called Mobile Resume (iTunes link). Just keep in mind that with the free version you can't export the resume out at all.
If you are looking for fancy fonts and layouts, then Mobile Resume Pro is not for you. If you are looking for a solid, basic resume to create and share quickly, then Mobile Resume Pro's iPad app packs a nice punch for a reasonable price.