Cellfire is an iPhone app with an existing web portal that lists grocery coupons that can be applied to your already existing rewards cards at various super markets. The app can help your coupon cutting tasks become digital. You can now stop worrying about having wrinkled up paper coupons on you at the checkout counter. Just browse for the coupons and pick them, then the cashier will san them at the counter from your iPhone. A bit awkward, but not as annoying as having to hand over a bunch of pieces of paper. Great for those who want to save money.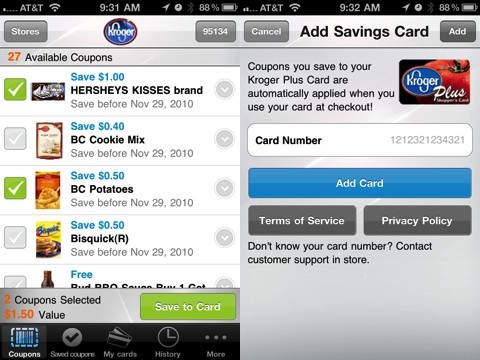 Cellfire gives you coupons for shops around your local area. Take your iPhone with you to the store! When you're in line, bring up your coupon again and press Use Now. Simply show your screen to the cashier. It's that easy! Sign up for a free account and get $100 in savings. Once you are logged in you will see local coupons. Coupons show local locations where they can be redeemed. Not fully iPhone optimized but Must be using iPhone.
For more apps on finding coupons, take a look at our review of the best iPhone apps for finding coupons where we also cover apps like foursquare, shopkick, LivingSocial, Valpak and more.
This 3rd Party App is available at the Apple iTunes AppStore. Browse the full list of
all AppStore apps
filed under the AppStore category.