The Wheretoget – Fashion shopping and inspiration iPhone, iPod Touch, and iPad app helps you source and purchase pieces in your favorite fashion looks discovered online. This fashion social community is a sounding board and helps answer the question, "Where did you get that?" With this free download from the iTunes App Store, you connect with a Facebook account or email log-in to get started.
The Wheretoget iPhone app instantly opens to a vibrant feed with crisp photography, searchable tags, and social engagement information. Each style is shared in a photo. Just above the photo, the category is tagged like jeans, t-shirt, prom dress, and swimwear; or, the user who updates a post with tips and buying information. Below the photo, the likes are listed. But, the most interesting and compelling information is listed below the photo – tips and buying information for the look. If you know where to purchase the item, you can add a website link. If you have an idea for a comparable piece, you can add a comment to share. A simple tally of each piece in a look tells you how many items of feedback are available. With a touch on the tally, you move to an expanded list of comments, links to websites, and other avenues to source the piece.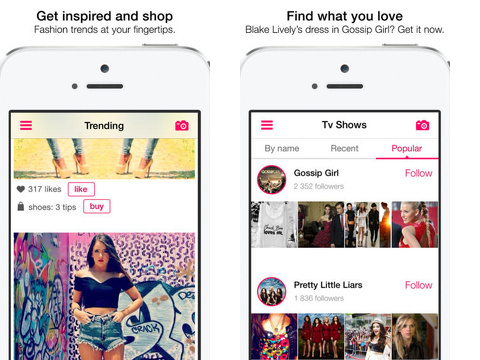 The list icon in the upper left hand corner of the screen leads to a sliding left menu for navigation. You can enter a search or add a look in the top of the list. You can also check out your profile, feed, trending, latest requests, and brand feed. In the lower part of the list, you can check out feeds by the following categories – clothes, celebrities, bloggers, TV shows, and trends. A touch on each item from the list automatically changes the feed to reflect those specific items.
To stay on top of your likes, requests, and Wheretoget iPhone app footprint, you need to check out your profile from the sliding left menu. It is similar to Pinterest and Instagram, as you have a feed and list of your likes, requests, and social interactions. You add looks by following a simple process that include photos from an in-app camera, iPhone photo library, Tumblr, and Instagram.
The Wheretoget iPhone app has a couple of opportunities to improve the interface and user experience. When you touch a specific item in the social feedback tally below a photo, that specific piece of information should appear instead of the list of all items' feedback. You must swipe vertically until you find the piece of information you want. A look is only tagged to one category, but multiple pieces are sourced in a look. You can add the different tags when you add looks, but it would be great to see multiple tags in an efficient way in the feed. A more thorough registration process where you have a chance to like categories to create a more customized home feed would be helpful. After you dig into the Wheretoget iPhone app, discover the sliding left menu, and enter searches, you can create a better experience and engage with the content more quickly.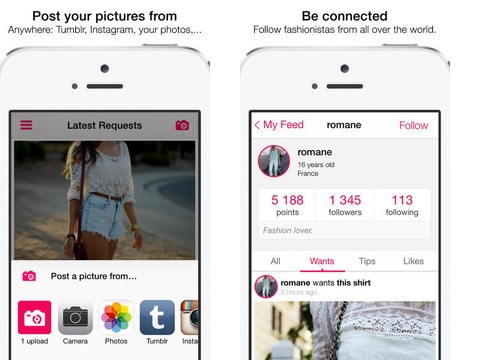 The Wheretoget iPhone, iPod Touch, and iPad app has a solid hook and quality idea, and it is a good iOS shopping app in its current state. With some refinement, it could be great.