Storytree's iPhone app makes digital scrapbooks to share with your friends and loved ones. For those of us who find ourselves craft-challenged and tech-gifted, we can finally create fun, memory-filled collections of life stories without sitting in an uncomfortable chair with bits and scraps of cut paper everywhere.
With a quick registration, you start building your digital scrapbook. You can add existing photos and videos, as well as shoot them through the Storytree iPhone app's camera. You can also record audio. This is a wonderful feature, as there are times you simply want to capture your children's conversations without them editing themselves.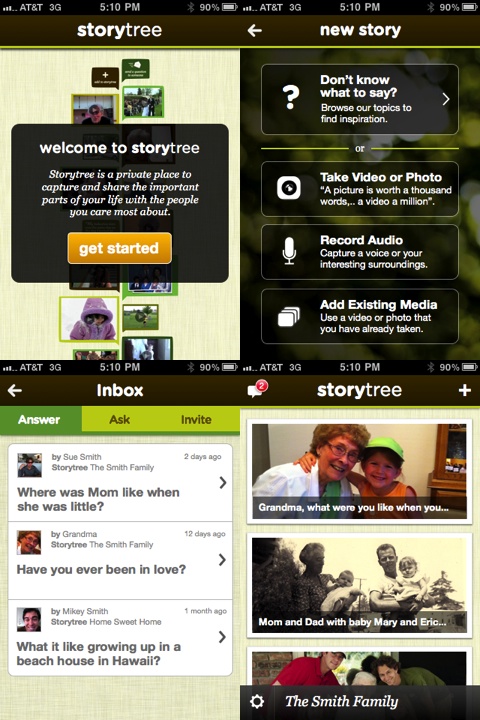 If you need inspiration, the Storytree iPhone app has an incredible, fantastic resource. There is a list of topics including fun and friendly, classic stories, new families, and holiday stories. You may want to describe your first kiss. You may want to add Christmas cards, or ask your family and children to discuss their favorite Christmas ornament. The Storytree iPhone app also gives you the opportunity to add your own questions. Perhaps, you think of a topic on the go for a new digital scrapbook. You can quickly open the Storytree iPhone app and type in your own inspiration to revisit.
With speed and ease, you will add videos and photos to your digital scrapbook. You add a title for each addition, as well as a caption. When you add a new element, you can choose to add to your existing Storytree, or you can create a new one. This is a cool feature, so you can add a Storytree for each of your children to follow them through a school year. The Storytree iPhone app maintains strict privacy settings, so you will appreciate that you make the choice regarding social networking and sharing. If you choose to activate sharing, you may connect your Storytree digital scrapbook with your Facebook friends and Twitter followers.
You can choose to invite family and friends to view your Storytree digital scrapbook, as well as ask for them to comment and share their thoughts about your digital scrapbook. The Storytree iPhone app integrates with your device's contact list to access and send invitations via email. Notes and input from other invitees may also be added to your Storytree digital scrapbook.
The Storytree iPhone app has an elegant, clean interface and easy navigation. The cues to guide you through the app are simultaneously informative and well-placed. The incredible functionality and fantastic capabilities are shockingly free. The Storytree iPhone app is a perfect app to synthesize the digital snippets of your life and distill creatively and beautifully for your family and friends.