Snapguide is a brand spanking new app that brings stunning, interesting step-by-step instructions to your iPhone. If you love Pinterest, Snapguide's iPhone app may become your new favorite app. Snapguide doesn't just give you a great picture, but you get step-by-step instructions for every crafty, cooking, lifestyle, and tech tip and trick.
With Snapguide's iPhone app, you can browse or create your own Snapguide. You'll find the interface extremely familiar, if you use Pinterest, Tumblr, and Instagram iPhone apps. You navigate via the menu bar at the bottom of the screen. As you dig deeper into the Snapguide app, you'll find smooth, logical movement to enhance and expand your experience. You can scroll through featured Snapguides, as well as explore popular and recent uploads by Snapguide users. The explore icon also gives you the opportunity to search for specific keywords and phrases. The featured Snapguides are beautifully produced and have a strong visual presence. You can also track the Snapguide community on the Activity icon. A Facebook style news feed with all of the Snapguide users is quickly accessed and sorted via one-touch filters–everyone, friends, and you–at the top of the screen. You can monitor your profile as well from the navigation menu.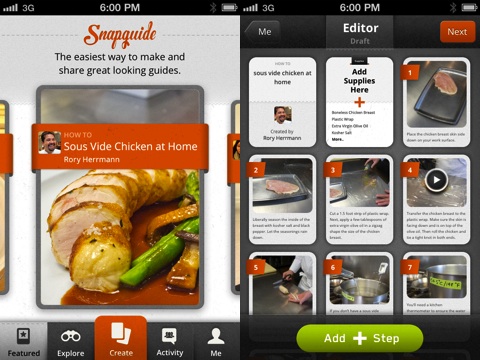 Each Snapguide has a fantastic snapshot for its home screen. The title, creator, conversation, likes, sharing options, and supply list are accessed with a touch. One of the neat features is the ability to jump to a step with a click. All of the steps appear as thumbnails. The supply list is a simple list. If the Snapguide creator has specified quantities, then the information is presented concisely. You simply swipe the screen to move through each step with a photo or video, text instructions, and voiceover. Each Snapguide creator can choose to include all of these pieces of information, or not. You can comment on a specific step or on the whole guide. The Snapguide iPhone app refers to the comments as a conversation. This subtle branding encourages connectivity and enhances the social networking experience.
The interface for creating and sharing your own Snapguide is awesome and similar to Tumblr's iPhone app. The interface is so shockingly simple, but creates such a strong visual impact. Snapguide moves you through the process and allows you to add as much detail–like supply, quantity, and keywords with intuitive gesture controls. Some controls are dials you manipulate. Some supply items are accessed with one touch pop-ups. For example, if you use goat's milk in your recipe, you'll be able to select that word from the screen with a touch.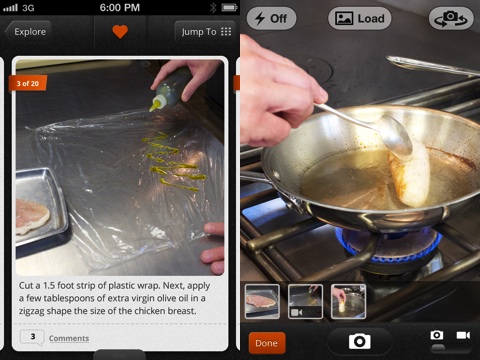 Snapguide has nice functionality for incorporating photos, videos, text, and audio too. You can copy and trim videos to fit the specifications. You can select multiple photos from your iPhone camera libraries. Once uploaded to Snapguide, you drag and drop them to order them properly. You have 200 characters of text to enhance content, as well as the ability to add audio. When complete, you choose your cover photo and publish. You can share easily to Facebook and Twitter, as well as via url or email.
Snapguide for iPhone packs tons of information and content into a succinct, attractive layout for easy navigation.