Talk about being late to the party! Twitpic has finally released an iPhone app. If you're a huge user of the Twitpic service, this is probably going to be exciting news for you. Otherwise, you can easily skip over this one since you can upload and or attach pics to your tweets a million other ways by now.
So what does the Twitpic iPhone app offer you ask? The layout is actually very clean and uncluttered. There are 3 tabs: Timeline, Post, Popular. The Timeline shows the most recent posts to Twitpic from you and the people you follow on Twitter. The Popular tab lists some interesting photos for you to check out. This section could actually be much more useful, if there was a search option available.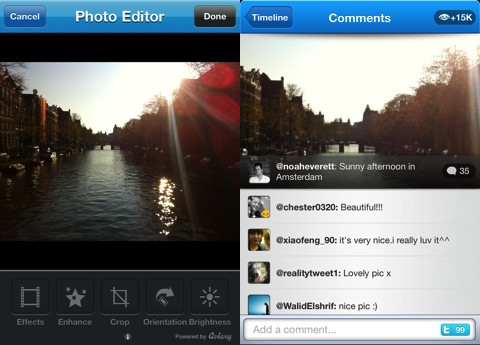 The post menu allows you to either take or choose a pic (or video) from your library. There is a built in menu to "Add Effects" to your pics which uses the Aviary plugin. There are 10 prebuilt Instagram like effects to choose from. You can also enhance the photo, crop, change orientation, and adjust brightness levels.
The screen for typing out the Tweet message is not thought out well, because you get a super tiny input box which isn't easy on the eyes at all. There's also a profile page, where you can see your bio and recent Twitpics posted.
The full view of any Twitpic is useful for reading and writing comments. The one thing you can't do from the full picture view is save the photo to your iPhone. The trick to use is the Screenshot command (press the home and lock buttons at the same time.)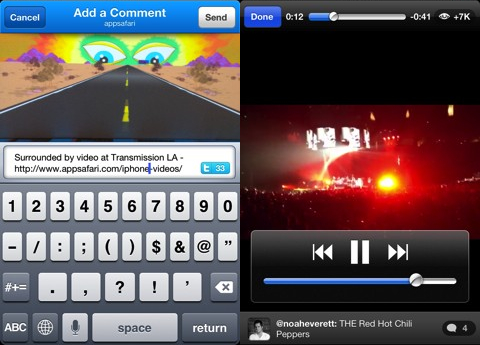 Finally the one aspect of the app where you might find actual use for is for video tweets. Since the Twitpic app lets you post videos, you may have some use for the app if you want to post videos to Twitpic straight from your iPhone.
Native iPhone integration for tweeting photos in iOS
In case you were not aware already, you don't need an app to tweet photos. This is why I'm not sure how many average users still "need" a dedicated app for posting photos to Twitter. Starting with iOS 5, there is now built in native support for uploading photos from your iPhone Camera Roll to your Twitter account(s). All you have to do is select any photo, tap the arrow icon and choose "Tweet" from the slide up menu. If you haven't done so already go into Settings > Twitter > Add Account, and add your Twitter credentials. From the same screen you can also choose which apps on your iPhone can access your global Twitter accounts.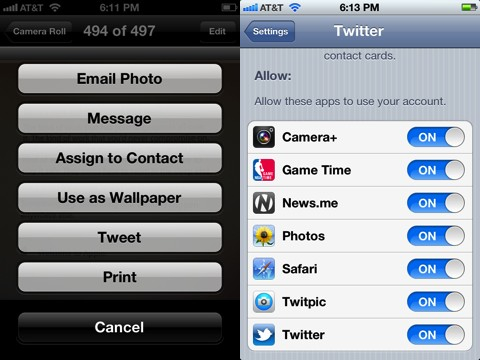 Overall, Twitpic for iPhone could be a worthwhile app for die hard users, those trying to read and write comments on Twitpics, and those who want to upload videos to Twitter. Otherwise you're best sticking to other Twitter apps or just using the built in iOS support.