Start and engage in conversation with your photos in the Piictu ~ Talk with photos iPhone app. A little bit Twitter and a little bit Cheers iPhone app, the Piictu iPhone app creates a new social network, integrates your existing social networks, and establishes a dialogue about life in photos.
You can explore the Piictu iPhone app without a Facebook authorization or email log-in, but an account is necessary to access full functionality. With a Facebook authorization, you can set privacy filters between public, just friends, and just me. You can also opt-out of Piictu's ability to post on your Facebook timeline.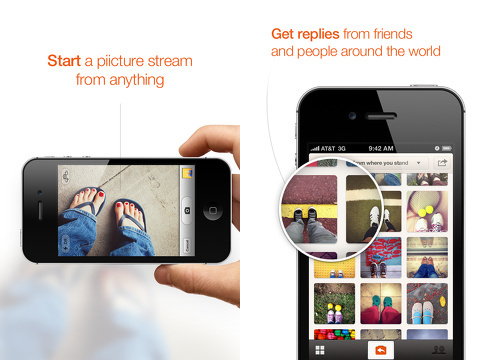 You navigate the Piictu iPhone app by touching icons on the menu bar at the bottom of the screen. Your strong visual feed is accessed by touching the Piics icon. You can check out trending and categories of photo conversations by touching the discover icon. The discover icon leads to an attractive grid of conversations based around colors, locations, cute pets, and more. You start a conversation by touching the camera icon. You can also access your activity notifications and profile.
From the stream of Piics, the photos are the spotlight. The name and profile picture of the person who took the photo, as well as social engagement features, frame each photo in the stream. You can touch the heart to like it. You can touch the conversation icon to share to Facebook, Twitter, and email. You can also post a photo reply by touching the arrow icon.
To create a photo that replies to an existing stream or create a new stream, you can shoot one from the in-app camera, choose an existing photo, or open the Camera+ iPhone app. You simply shoot a photo and add a title. You can also tag friends, share to Facebook and Twitter, and post to the Piictu social network.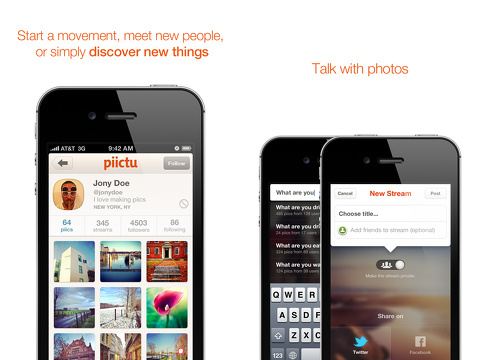 The creative way people express themselves in the Piictu ~ Talk with photos iPhone app is refreshing and fun. You can check out photos taken under bridges, birthday parties, your boots, your sunglasses, and cool things you encounter every day.