Trendabl for iPhone and iPod Touch is a free Pinterest app for fashionistas. With a funky, modern visual presence and intuitive navigation, you can keep up with the latest trends in fashion, accessories, handbags, and jewelry.
Trendabl allows you to connect with Facebook, or you can choose to connect with your email and password. You can authorize the Trendabl iPhone app to search your contacts, Twitter followers, and Facebook friends to connect with your existing social networks. Many iOS apps use your default Facebook security setting in the authorization process. With Trendabl's iPhone app, the default is public and may require you adjust the setting. As with Pinterest, you can follow other curated Trendabl iPhone app profiles.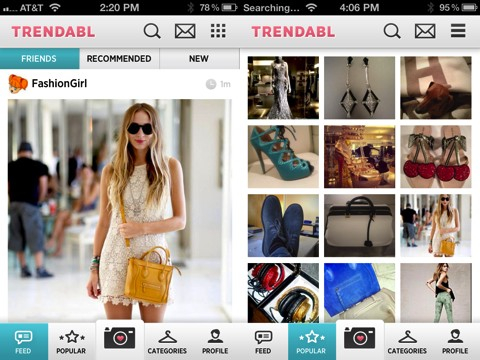 Trendabl's interface is familiar, as it incorporates the Instagram menu bar at the bottom of the screen and the photo-filled news feeds of Pinterest. You can snap photos and share via the center photo icon. You can shoot a photo from within the Trendabl app, or you can select from your iOS devices' libraries. After you select a photo, you can select from seven filters to energize your photo. You add categories to your photo for ease of filtering. You then have the opportunity to add a caption and additional info like the brand, store, color, and price. You can post with one touch to Twitter, Facebook, and Tumblr as well. You can navigate through the app with great precision, or you can meander through the news feed and popular feed. You can select the categories icon to search for a specific item. By touching the search icon in the top of the screen, you can enter keywords to help you with your search. So, if you are looking for a a great pair of black shoes at Nordstrom, you'll be able to find them quickly and easily in the Trendabl iOS app. You can like and comment on other Trendabl trends for enhanced social networking.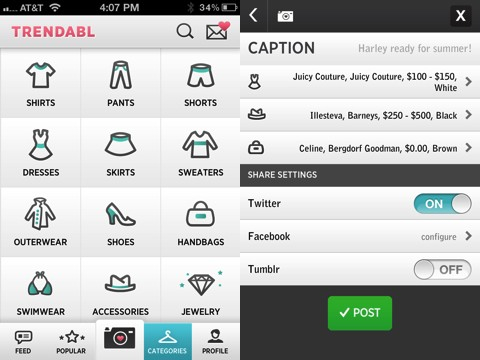 The Trendabl iPhone app is well-executed and focused. Fashion followers will appreciate the ability to connect and share with those who are truly focused on fashion. You don't have to scroll through recipes, home organization solutions, and a zillion inspirational quotes to check out a pair of incredible sunglasses with Trendabl's excellent iPhone app.
This 3rd Party App is available at the Apple iTunes AppStore. Browse the full list of
all AppStore apps
filed under the AppStore category.