If you're looking for an iPhone app to follow the New Kentucky Derby, check out their official free mobile app which works on the iPad as well. The most important part of any horse race are well, the horses and jockeys, and you'll find this along with a ton of other sections in this app.
Here are the sections and features the KD app provides:
Horses: View horses, jockeys, trainer, owner info, odds , and photo slideshows for both the Oaks and Derby race.
Other sections in the app include a calendar of events, media library, news, ticket sales, mini games, Facebook and Twitter updates, and more. You also have venue information, maps, and parking details for those who are visiting Churchill Downs this weekend.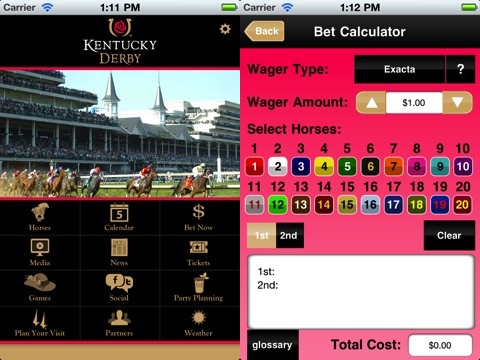 The app also gives you weather information for Louisville, KY as well as links to buy tickets to the event, and bet on The Derby. The only downside is that these are links to outside websites which just load inside the app, and are not mobile friendly.
Do you know the difference between a Trifecta and Exacta bet? If you're new to horse betting, there is a quick information page on the basics along with a payout table. There is also a useful bet calculator to help you plan your betting.
Having a Derby Party? There's a party checklist, party supplies, and recipes you can try.
Where to watch the Race? Yes the Kentucky Derby is a 3 minute race that airs on NBC, but there are a ton of carpet specials and events leading to and wrapping up. The apps lists where on TV and radio you can catch all these events.
While the app is not amazing, it does offer a few pieces of inormation that are important, and since it is free, it's worth grabbing if you're planning to be at a Derby party this weekend, or are trying to place a bet and need more information about the race.