cliqcliq Colors is an easy-to-use color picker iPhone app for discovering, converting, and managing colors and palettes. If you're a web developer, web designer, photographer, or just enjoy playing with colors, Colors is a must have iPhone utility.
Colors works perfectly on an iPhone, since you can snap a picture of any subject with your Camera and watch as cliqcliq extracts its main colors into swatches that you can further refine and create for your reference. These colors can the easily be used to create a the color theme for your next project whether it be CSS, HTML, Flex, Flash, Objective-C or other media-centric technologies. If you're not inspired by anything around you, try loading up photos from the Flickr stream, or your photo library and use those to experiment with new color patterns. And for even more inspiration, you can browse the custom created color palettes on cliqcliq.com from within the app and even upload your own creations after creating an account.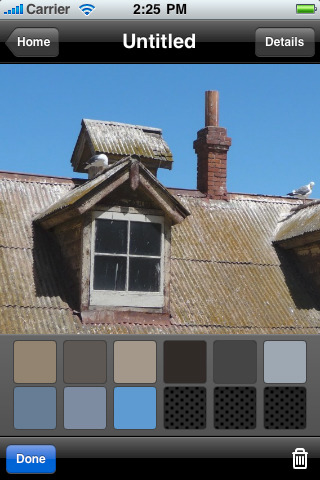 There is also a scratch are with customizable sliders for CMYK, RGB and HSB where you can custom create your own colors and save them to a standard 12 color palette. From here you can then manage and save your color palettes, and easily convert between RGB, HSB, and CMYK as well as integer and floating point scales. Double tap any color to fill the entire screen with it for a closer look. To make things even more streamlined, you can export and email out color palettes compatible with Adobe Illustrator, Photoshop, and Microsoft Office, along with a bmp and text file for your reference.
If you are already using web based color management tools like Adobe Kuler or ColourLovers, then cliqcliq Colors is a valuable and handy iPhone app to add to your list of utilities.
While this app does not have the predefined color patterns like Color Stream does, it does offer a social aspect for discovering and sharing user palettes, and offers a larger number of colors to be used in your palettes. Overall a great productivity app for any developer or designer with an iPhone.
This 3rd Party App is available at the Apple iTunes AppStore. Browse the full list of
all AppStore apps
filed under the AppStore category.