Avid Studo is a new portable video editing app that makes great use of the iPad 2 video recorder for iOS. While it won't compete with high-end video editing programs, it does have similarities to the earlier versions of iMovie on many of Apple's eMacs.
Concept
The concept for this application is simple: import video, import audio, drag the files around, and make them work. There are different icons for the various features of the screen. Depending on which one is tapped, users can access imported video and audio clips, fonts and overlays, visual effects, and transitions.
At its most basic use, the program strings together a bunch of videos, or allows individuals to shorten a clip before sending it to a friend, posting it to Facebook, or uploading it to a social media site. At its most advanced, the program can create professional looking editing even if the video is lacking in composure.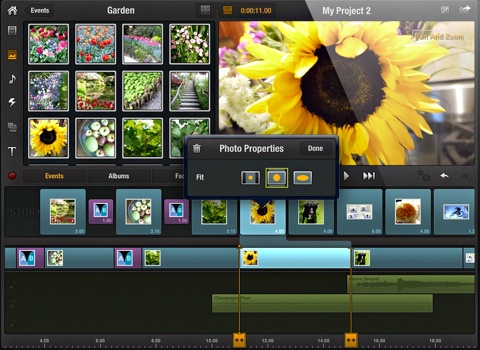 Performance
This review was performed on an iPad 2 and simple tasks such as shortening video length, adding audio and video clips, and processing files were smooth. However, many sites and reviewers complained endlessly about complications of this program on the original product, so buyers beware.
For those using the latter, know that basic projects using short video and audio clips run smoothly with little lag. In projects including more than 10 video clips and 5 audio clips, the software lagged. Also, longer video clips caused the software to eat up the processor. Battery life saw significant draining during heavy processing.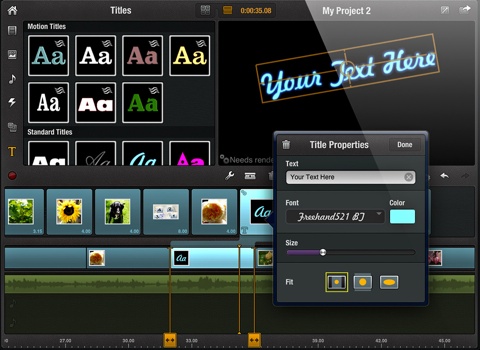 Features
This program is basic and comes with a basic host of features. There are title subsets, video effects, audio tracks, albums, and events. It does give users the option of exporting videos into preset formats for Facebook, Youtube, email, and video. Depending on what a user chooses, extra formats and settings menus may become available.
One concern with the features is that the transitions in the program were very limited, including only a fade-in and fade-out, and a dissolve function. Of course, this isn't about glitz and glam, it's about editing on the go, preferably for bloggers and vloggers.
For users wanting to step it up their video production, they can record audio with a dedicated audio recording device simultaneously with the video, and then import that audio later to render sound designed for desktop speakers and headphones.
Controls
A program developed for Apple's version of a tablet should use slide and drag-and-drop features, and Avid did just that. Almost every function is performed through a drag-and-drop action. Video and audio files are slid into place with easy file sliding. Their lengths, volumes, and positions can be edited with pressing and sliding features. Other options, such as the tabs, are activated through one-tap commands. Everything here works perfectly and smoothly, although there might be learning curves for new users, or those unfamiliar with video editing.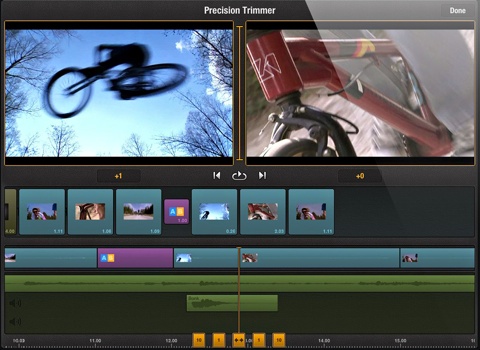 Layout
This app was designed with a clean and modern styled appearance to this application. The background is black, video files in the project are indicated by a bluish box with a small video thumbnail in the middle, while audio files in the project use gray-shaded decibel waves in green slabs. Transitions and effects between in-project video and audio files are purple. Selectable files are rimmed with gray.
While adjusting to the layout may take time, its overall presentation is organized and crisp. Definitely no complaints here.
Value
You would have to frequently use the Avid Studio iPad app for editing videos, whether shrinking them down or changing the levels of audio, to justify the application's price. Free video editing iPad apps and software through Apple computers will serve just fine for desktop editing. However, for those wanting to edit immediately on a mobile device and upload, vlog, or enrich blogs, or post to Youtube, Avid Studio for iPad is a must have.