There is a common problem with wearing headphones. It often lowers our awareness of what is going on around us. The iPhone and iPod touch app called Awareness is built to allow you to enjoy music without missing out on anything important. This could even be a life-saving app for those who wear headphones while jogging or walking in busy areas.
Whether at the gym, on a hike, or walking around the block, people use headphones and music for motivation while working out. Many music enthusiasts would wear their headphones around the clock if their circumstances permitted. Many writers, programmers, technicians and drivers also enjoy wearing headphones while working. Music definitely has positive effects on our metal outlook and can help us focus.
How the Awareness iPhone app Works
This application is a little different from the standard iPhone app. It runs concurrently with other applications. Its main purpose is to utilize the device's speaker to pipe loud or sudden noises in through your headphones. If you are rocking out to your favorite tune and your boss comes up behind you and says something, this program will send the audio into your headphones.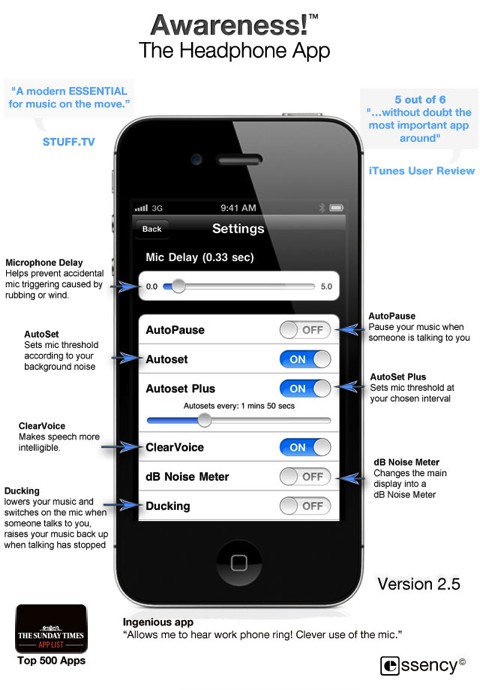 Since it can be frustrating trying to talk to someone with headphones on, this solution makes a lot of sense. You can enjoy your music without the worry of missing something important happening around you. It can help you offer a little courtesy to those around you while still privately enjoying your music.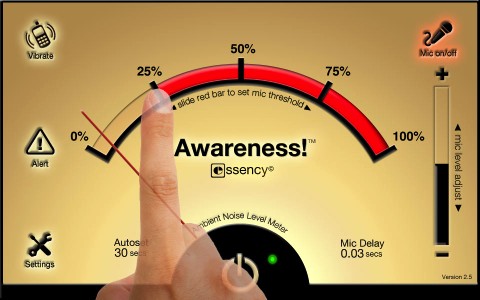 Awareness is also very configurable. You can review the settings within the app's main interface to raise the threshold for noises that enter the headset. This way if you are in a noisy area, you can raise the threshold to ignore white noise, background machinery hum or other sounds that don't deserve any attention.
Another nice feature that's only available on the iPhone version is vibrating alerts. Instead of having the sound pumped through your headset, you can opt to have your phone vibrate when a sound is detected nearby. This feature is great for those who do not want their music being interrupted by the sounds.
A Great Idea
Once you start using Awareness you'll find it utterly indispensable. Although there are moments when it surprises you or picks up your own voice or sounds you make, the application usually stays out of the way and discretely monitors what's going on around you.
You may not need this application every single day, though in the right circumstances it is quite useful. I would recommend Awareness to hardcore headphone users who don't want to miss a phone call or other events happening around them. The only downside to Awareness is its price tag, which may keep the casual App Store customer out.