Ever accidentally record a video instead of taking a picture on your iPhone? StillShot is an incredible new iPhone photography app released today, May 14, 2012, by Macadamia Apps, the same team behind GroupShot. StillShot's iPhone app extracts photos from your videos that can be saved and shared with a simple, intuitive interface. StillShot is designed for those moments when your iPhone camera is inadvertently set on video mode. You no longer miss those precious moments. And, more importantly, you're able to edit out your expletive-filled reaction when you do realize your iPhone is in video mode. You also capture great reactions and unique perspectives in video. It's really cool to have StillShot's iPhone app capabilities to capture a great shot that doesn't have a play mode arrow in the middle of the frame.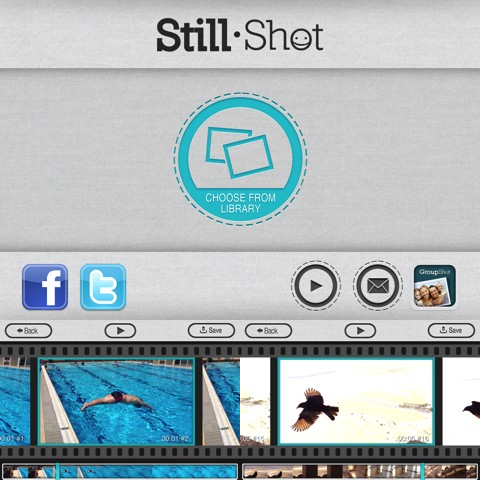 The StillShot iPhone photography app has a similar interface to GroupShot. The home screen has a clean, modern feel with clear direction via icons and text prompts. With StillShot's iPhone app, your videos from your libraries are available to convert into photos. The processing time is surprisingly quick considering the complicated task at hand. I experimented with short and long videos, and I found excellent speed and agility in processing for both scenarios. StillShot's iPhone app incorporates different ways to scroll and select photos. The gesture control for navigating through your photos is responsive and accurate. Once you have selected your photo, the one-touch sharing to Facebook and Twitter operates with great ease.
There is an understated simplicity in StillShot and GroupShot that brings elegance and grace to the Photography section of the iTunes app store. The StillShot app, like GroupShot, solves problems with beautiful functionality. Let's hope Yair Bar-On and the Macadamia Apps team continue to produce quality iPhone apps to help us preserve cherished memories with ease.
This 3rd Party App is available at the Apple iTunes AppStore. Browse the full list of
all AppStore apps
filed under the AppStore category.