Once in a while we get applications submitted to us that make us say those three famous words: WTF! This app (SexDiary) is the first in the series of those apps which we are going to start covering every so often under the WTF category. SexDiary is an iPhone app for keeping track of the people you are planning to take to bed, sort of like a full fledged black book with a twist. The broken English used in the app can be humorous although the extent of features provided are borderline disturbing. Some people are apparently so busy running around with new partners that they need an iPhone app to keep track of their habits. The app SexDiary goes into a really high level of detail when it comes to keeping a journal of your sex life.
WTF app of the week!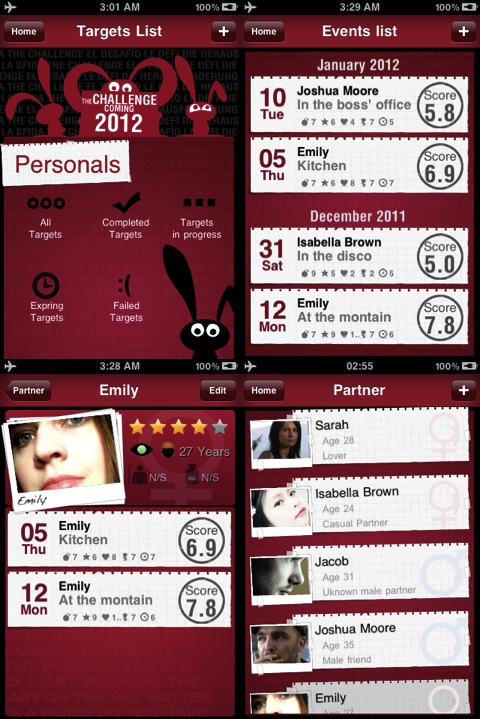 The screenshots of the app alone are interesting to say the least. There are pictures of both male and female partners on one screen labeled Partner, which while could be a hint that the app can be used by both men and women, could also mean that it is bisexual friendly.
Once you load the app up, you're supposed to rate your own sexual preferences in a variety of categories and then start entering your partners and details for when and where you want to "target" them. You would then enter events where you would go after your "target" and then keep track of your targets and their success rates. There are a variety of prebuilt locations to choose from such as On a plane, In the office and many more.
If you consider yourself to be something of a pickup artist or player of major sorts, this app might be something you could use to digitize your sex escapades. Surprisingly, the app has a ton of detail and functionality built in. All it needs now is a Facebook share button so you can post your success stories on your wall.
This 3rd Party App is available at the Apple iTunes AppStore. Browse the full list of
all AppStore apps
filed under the AppStore category.