Create short videos and share them with the Vine – Make A Scene iPhone app. This video social sharing iOS app by Twitter incorporates unexpectedly engaging interface and simple tools to make interesting, fun video vignettes.
You sign into the Vine iPhone app with a Twitter authorization or an email address. If you have an existing Twitter account, you will be prompted to create a new account associated with your Twitter handle. Your Twitter profile photo and brief description is pulled into the Vine iPhone app, but can be changed in your Vine profile.
The Vine iPhone app has a concise, intuitive interface. The home feed is interesting and different. As you scroll with vertical finger gestures, the video that fills the screen will automatically play. Just below the video, you can find information like the caption, the user who posted, likes, and comments. In the top menu bar, there is a home icon with an arrow. With a touch, the navigation options slide on the screen from the top. You can explore Vine's content by hashtags and names. The trending content is presented in a matrix grid with fun graphics. You also access your profile. The profile allows you to adjust your settings, as well as view your posts and your likes with one-touch sort options.
To make a video for the Vine iPhone app, you touch the video icon at the top right in the menu bar. You can follow through the tutorial, as you make your first Vine iPhone app video. You create a video with gesture controls. You hold the iPhone, so that your preferred shot fills the screen. Your finger touch controls the recording process. You touch the screen to record, then pull off to stop. At the end of the recording, the video plays for you and continues on a loop.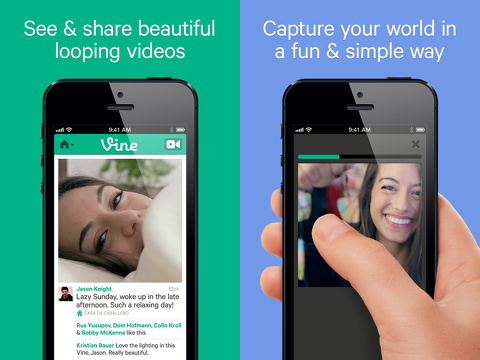 Like a tweet is a micro-blog, the posts in the Vine iPhone app are micro-videos. It's short and sweet, but the video does not have to be simple or uninteresting. Your creativity shines, as there are no filters, effects, or any other tools to transform it. You can add a caption, location, and share to Vine, Facebook, and Twitter with just a few touches on the screen.
The Vine iPhone app is intriguing, as it pushes you to express yourself within the boundaries of time, tools, and functionality. If you like a challenge, then you'll love the Vine – Make a Scene iPhone app.