The Recollect iPhone, iPod Touch, and iPad app not only helps you recommend and discover music on Twitter, but also helps you create a music catalog to track your personal favorites. The tips, tricks, and capabilities of the Recollect iPhone app are surprising and plentiful, and the interface is engaging and appealing in its simplicity.
The Recollect iPhone app opens with 11 introductory comments that are scrolled with a horizontal swipe. Eleven swipes may be a bit too much, so an effort to streamline and compress the intro process would be a good idea. You authorize your existing Twitter account, create a new Twitter account, or create a second Twitter account specifically for music. The authorization process worked seamlessly and quickly.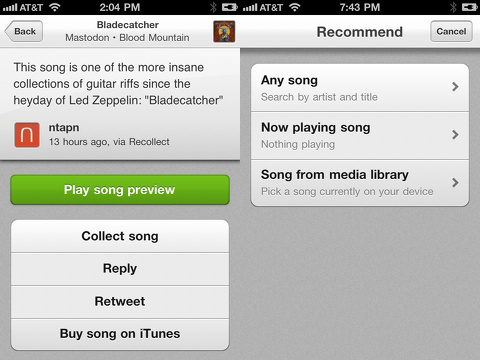 The home scree of the Recollect iPhone app is attractive and easy to navigate. The top menu bar has an icon to open a sliding left menu like Facebook's iOS app and an icon to write a tweet. The sliding left menu allows you to move between your stream, profile, collection, friends, featured, support, and settings. These items in the left hand menu are simply one touch filters to change the screen's content. Just below the top menu bar, there are four filters–everyone, featured, friends, and trends. The rest of the screen is reminiscent of the iOS Newstand imbued with an old school record store vibe. There are album covers with songs arranged in a grid.
When you touch a song, there is a great customized screen filled with fun features. At the top of the screen, you will find the impression, thoughts, and musings of the person who recommended the song. Additionally, the Twitter profile photo and name are provided. There is a list of additional options ranging from play a preview, play full song, reply, retweet, buy the song, and check out the person who made the recommendation. The music will continue to play, if you surf around the Recollect iPhone app.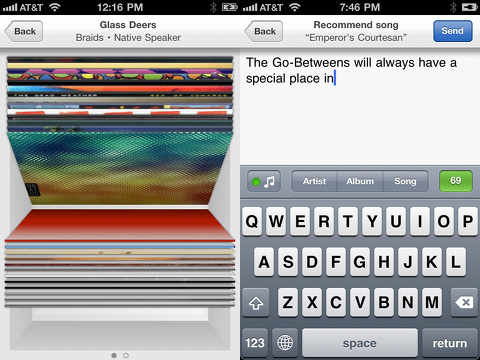 One of the most interesting tools for each song is the chance to collect it. If you collect a song, then you are adding it to your Recollect iPhone app music collection. You can access your collection from the sliding left menu. Your collection is a record bin that you thumb through with agile, responsive gesture controls.
The Recollect iPhone, iPod Touch, and iPad app has excellent organization, cool graphics, and great tools to help you stay on top of your musical inspiration.