Tiny Heroes is an exciting new game by Simutronics for the iPod Touch and iPhone. I played the game on my iPhone 3GS for this review and was excited when I opened up the application to see that it featured the same kinds of characters that a Dungeon Crawl would. Even more amusing, though, was the real set up. In this world? The heroes are the villains.
Touch the Campaign button on the title screen, then tap on Dungeon to start. I had the Tutorial turned on and was greeted with a cute animation of a goblin named Carl, who informed me that it was my job to protect the goblin's treasure from greedy heroes. I needed to set deadly traps to take out the invaders before they reached the treasure vault and made off with all of their hard earned gold.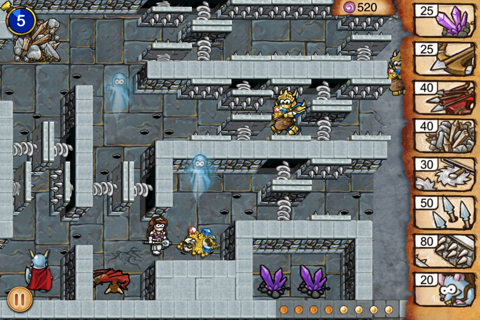 The instructions on how to begin were straightforward and easy to follow. You tap the traps on the right side of the screen then tap an empty space that you wish the trap to go into. If the space is green, the trap can be set down. If it's red, you must pick another spot. You have to have enough mana points to set the trap, indicated by a number on the trap. Traps are set in the maze to the left with the treasure room to the right. The harder the level, the fewer set traps at the beginning and the fewer treasure piles you have to protect. The heroes enter the maze and encounter the traps you've set and if they make it into the treasure room and leave with your loot, you lose. If even one piece of treasure remains, you win. There are different types of heroes, from the warrior to the wizard and even the thief, who can disarm your floor spikes.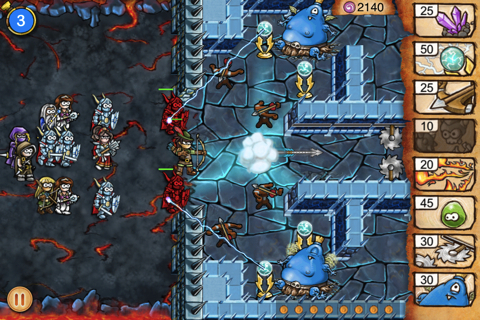 The first several levels were simple and I gained new traps at a rapid rate. Mechanics like mana were explained well and I had a great deal of fun setting up different kinds of traps. You can setup things like barricades in a space with floor spikes, or blades in the walls in front of it, leaving heroes to chip away at the barricades while taking damage from the trap they're standing in. The first challenge level was where I started to have trouble, though I had difficulties on normal levels later. It's important to get your mana up first, but don't neglect your defenses. I learned that the hardest way, by losing levels.
Overall, Tiny Heroes was a fun iPhone app to play and one I will definitely keep. It was enjoyable and I had no major complaints about the game.
This 3rd Party App is available at the Apple iTunes AppStore. Browse the full list of
all AppStore apps
filed under the AppStore category.