Reckless Racing 2 is here for the iPad and iPhone from Polarbit and sells for $4.99 in the App Store. If you like top down miniature 3D drag racing games, RR2 is a worthy app purchase. The original game (Reckless Racing) had tremendous success and a sequel is a welcomed addition.
The game starts out asking you to choose an avatar from one of 17 hand drawn characters and entering your name. Reckless Racing 2 introduces dynamic difficulty where the game engine will automatically adjust the difficulty level to match how good (or bad) you are playing.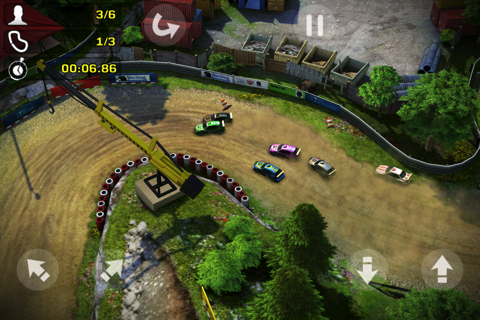 Reckless Racing 2 has 4 gameplay modes: Career, Arcade, Single Event, and online multiplayer.
Career mode: Play and unlock 12 cups. Winning one unlocks the next cup. The initial rookie cup is called Roadrunners and you can work your way all the way up to Outer Peak. Every cup comes with anywhere from 3-5 races for you to complete. Each event has a unique set of challenges to complete (Race, Hot Lap, or Elimination) and you earn difficulty points as well based on your effort level.
Arcade Mode: Finish races in 3rd place or higher to move to the next challenge. There are a total of 40 challenges in this mode.
Single Event Mode: Here you are free to jump in and race in any track, cup, & event with any car you've unlocked. Play in either a race, hot lap or an elimination race.
Online Multiplayer: Either host a race or join an already hosted online game room and race against other users.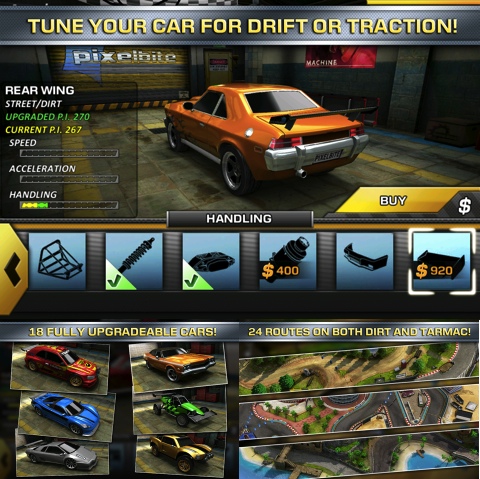 Garage: View your cars on a platform and rotate the car using touch gestures by dragging it up/down/left/right. Your garage starts out with one car, the Sansiban XL. Winning races earns you prize money that can be used to buy additional cars, upgrade performance such as Speed, Acceleration, and Handling, or change the look of your cars such as rims and paint jobs.
Controls: Choose from 5 steering and gas control options. The standard setup gives you 4 buttons (2 for steering and 2 for steering) which gives you the best amount of control overall. Adjusting the steering sensitivity can help fine tune getting around corners further to you liking. Other control presets are Tilt, Halfwheel, Fullwheel, and Tank. You can also customize the placement and size of onscreen control buttons. The game engine provides for realistic physics when you collide with objects alongside the road like gravel, sand, cones, railings. The action packed powerslides, drift racing action that made the first episode famous are all back with a vengeance. You can even fall off cliffs and bridges if you're not careful.
Options: Show or hide the Race Line, Pace Note, Chase Camera, and the Mini Map, plus the ability to disable Dynamic Difficulty.
In-app Purchases: If you don't feel like earning your money, Reckless Racing 2 let's you buy credits via real money. Coin packs cost anywhere from 1-$10 for 50,000 to 2,000,000 credits.
Graphics: RR2 has noticeably higher quality graphics and better HD quality artwork. Characters, race maps and the 18 new cars all look extremely polished. Playback on the iPad 2 and iPhone 4S are smooth and fluid.
Complaints: Tilt controls are nearly unusable in the game. Not many people in the online game rooms yet, though this will most likely improve as more iOS users buy this game. In game music is quite repetitive and borderline mind numbing in RR2 and desperately needs some variety. What's missing is the fun banjo music that gave the original character. Leadrerboards require registering for a new an account with Pixelbite.
Reckless Racing 2 adds value with its fully customizable race cars and HD graphics with a ton of new races and tracks to complete, enough to keep you busy for quite some time.