Pizza Vs. Skeletons is an game for iPod Touch, iPhone, and iPad that has a great look and an amazing addictive gameplay style. In this iPhone app, you play as a large pizza fighting against skeletons that rise every 1,000 days to take over the world. In this review, which was written based on experience with the iPod Touch, we will go through everything you can expect from this game. Be prepared to fall in love with Pizza Vs. Skeletons.
Graphics
The graphics in this application are absolutely impeccable. They are all hand-drawn, and you can tell a lot of effort went into making the pizza, the skeletons and the elaborate backgrounds. Even if you are not crazy into art, or even this aesthetic, you will find that it perfectly suits the program and that it gives it a unique feel that no other app can emulate.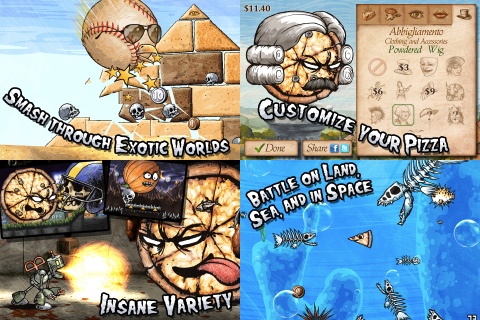 Controls
The controls are very simple. You need to tilt the App device to make the pizza roll so it can crush enemies. While the physics may trip you up every now and then, this is part of the challenge. Jumping is as easy as tapping the screen.
Controls really can't get any easier, and you will find that they are calibrated perfectly, and that you won't get frustrated from lousy, unresponsive gaming.
Audio
The music in Pizza Vs. Skeletons is absolutely wonderful. It's somewhat haunting and Halloween themed, but also upbeat and quick. When you imagine a huge pizza running over skeletons, there really isn't any other music you can think about.
Customization
Perhaps one of the most amusing parts about this program is the ability to customize the pizza. When you gain in-game money, you can use it to buy new parts for your pizza. You can change things like the crust and toppings, or odd features like the pizza's hair and eyes. There are thousands of combinations, and it is impossible to not like at least one of those combinations.
The items themselves don't give any stat bonuses, but that is actually a good thing. You won't have to worry about balancing strength and speed, while making the perfect pizza. You can just concentrate on making something that looks amazing to you.
Cons
If there is one problem, it is that the levels in Pizza Vs. Skeletons are too short. Each world is 10 levels, and if you can beat a level in one turn, you should only spend about 10 minutes on each world.
Overall
Despite the one problem with it, Pizza Vs. Skeletons is an amazing program that you will find yourself going back to over and over again. Whether you are in it to squish the skeletons, or just to make the perfect pizza, this program is one that belongs on any iOS device.
Here is a video demo of the Pizza Vs. Skeletons app on the iPhone