I downloaded the Chicken Revolution : Warrior iPhone app thinking that it would just be a joke, a game that wasn't really fun but would satiate my boredom for the while and that I would delete later. Honestly, most iPhone apps are like that. And having seen the premise of this game, the story line, I wasn't expecting much. I was definitely not suspecting the not only exciting and versatile but also extremely cute app that this turned out to be. The animation is impressive and the plot line is so funny. Everything about the app makes you feel proud to be playing the role of Wattles, the brave chicken warrior. What keeps me going is that ironic image of the "chicken warrior," since it's such an oxymoron, if you think about it. A chicken that is brave? A warrior that is a chicken? Haha… it keeps me laughing through the entire story line.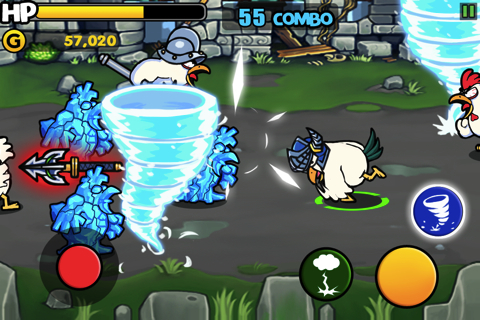 Unlike many other applications for iPhone or iPod touch, this one really gives you enough options to keep playing the games for hours on end. There are so many items and skills and weapons and costumes, each so cool that you want to get all of them. Seeing Wattles become so strong is very satisfying; his powers grow throughout his journey of revenge and the animations are equally satisfying.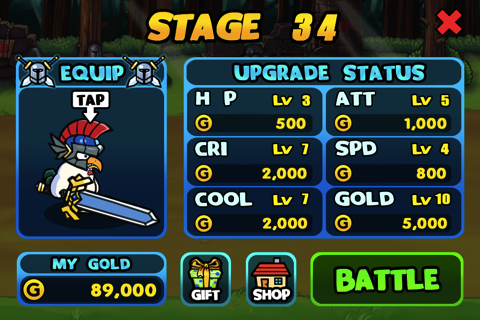 The combo meter is an unexpected aspect to this application, but that desire to keep up the combo and have a number in my head to be better and better makes this application one that truly requires skill and attention. When I got my friend to also install it, we had so much fun playing side by side seeing who could get a higher combo and really just do cooler looking things. Our silly arguments and hypothetical situations created memories and moments we will continue to laugh at for a while, something that I am very grateful for.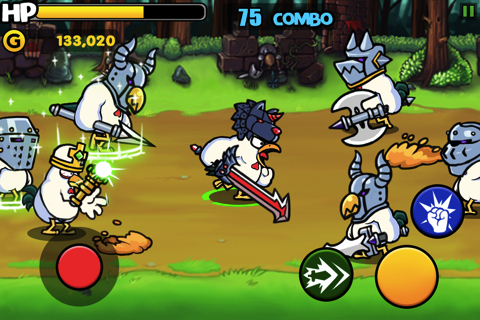 I find it hard to resist the temptation to buy more in-app gold, since, if I do buy the gold the story will be made more interesting and fast paced, but if I don't buy the gold I will have more incentive to work harder and have more time to spend in playing to earn that equivalent value.
If I could offer some advice in what I would like to see in further updates (which I really hope the makers do keep updating this amazing piece of entertainment), I would like to see some blue tooth PVP mode added. I hope that this review serves well to promote this awesome and "worth-it" purchase and encourage the makers to try to do even better in their next creation and keep the great ideas coming.
This 3rd Party App is available at the Apple iTunes AppStore. Browse the full list of
all AppStore apps
filed under the AppStore category.