Do you love endless running action platformer games? In the appropriately named app Run Like Hell, developed by Mass Creation and available for the iPhone and iPod touch, the objective of the app is right in its title: to run like hell. As an unnamed adventurer, who bears an uncanny resemblance to Uncharted's Nathan Drake, your only goal is to outrun the island natives who are chasing you. Your character automatically runs through a level at a set speed and it is your job to time his jumps and slides to avoid all obstacles in his path. For example, you'll need to jump over small rocks as they appear or slide through a small cave opening. If you fail to hit the correct button in time, your character will still circumvent the obstacle ahead of him but at a much slower pace, giving your pursuers time to catch you.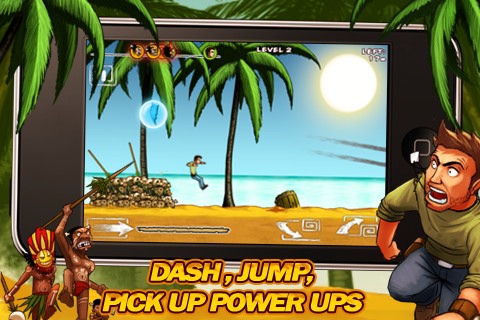 When an iPhone app includes only a limited number of controls, it's important that those controls function properly. In Run Like Hell, the controls are responsive and are situated on the outside edges of the screen, giving you a full view of the action at all times. Besides jumping and sliding, your character can also accumulate boost, which allows him to run faster; this is activated by a button in the lower left corner of the screen. Like the previous two buttons, the boost button is responsive and does not interfere with the action on-screen.
Throughout each of the game's eight levels are various power-ups, allowing you to increase your boost or shock your attackers, causing them to slow down. Getting these power-ups requires skill in your jumping and sliding abilities but are always worth trying to grab.
For a freely available app, Run Like Hell has much replayability. The application offers three modes, up to eight levels and is constantly tracking your distance to compare with your friends. Unfortunately, Run Like Hell closes off too much of the game at the beginning, including the Story mode, only opening them up when you've run a certain distance. With only two levels to choose from at the beginning, this means it could be awhile before you unlock any new content. If you purchase the paid version of the game called Run Like Hell Deluxe $0.99 (iTunes Link) you will get story mode with dozens of levels, mini games, comic cut scenes and more included with the game. The Deluxe version is actually a good deal since the difference in price is actually lower. If you want to purchase the Story Mode of Run Like Hell you'll end up paying $1.99 via in-app purchase from the free version of the app. So, the one major complaint we have with this app is the confusion between its Deluxe and non-deluxe versions, which is not clearly stated before you download the apps.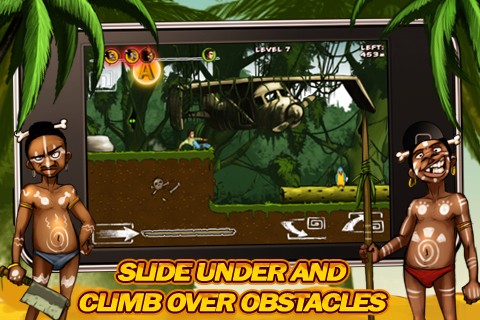 The graphics in Run Like Hell are very detailed for an iPhone app, especially the backgrounds, and feature large amounts of color. The animated cut scenes that appear when you're caught are almost worth getting caught to see. The music features upbeat songs with a fast tempo, with a different song being used for each level. On an iPhone 4 with iOS version 5.1, there were no bugs, glitches or freezing during this review, another high point.
Run Like Hell is a highly recommended app for both the casual and hardcore gamer.