Do you enjoy iPhone apps that challenge your problem solving skills? Froggies is a solid straightforward puzzler game for the iPhone and iPad from Ondrej Sedlacek that blends together elements of checkers and chess. Instead of kings and crowns, you move frogs with different powers and jump your way to the next level by leaving the frog princess on the board. Froggies iPhone and iPad puzzler app is simple and easy to learn, as well as appropriate for everyone in your family.
The object of the Froggies iPhone and iPad app is to clear your board of all frogs except the frog princess. The frog princess has abilities similar to the queen in chess. She can move in any direction, but is limited to only one jump. There are several different frogs you encounter. The green frog moves like a rook–vertically and horizontally, but, again, it is limited to only one jump. You encounter different frogs as you progress, and they have their own unique movements and impact on the game.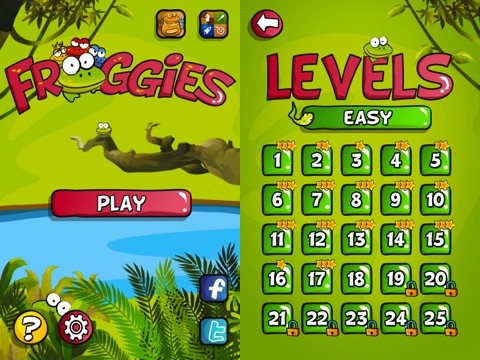 A helpful pop-up before you work with a new puzzle tells you how to handle the frogs. Also, once you touch a frog to move, the board highlights sanctioned moves. With a touch, your frog jumps to its new location. You can apply a magic wand to a frog with earned points to give it enhanced powers. This is a neat way of incorporating a hint into the game play. The Froggies iPhone and iPad app has a whimsical visual impact and a reggae-inspired soundtrack to round out the experience.
The Froggies iPhone and iPad app starts with extremely simple puzzles, and, as a parent, I appreciate that aspect. Many puzzler apps are accessible for two or three games for your little ones, but they become too complex and too quickly. Your kid is hooked after one or two levels, but then gets quickly frustrated. The progression in the Froggies iPhone and iPad app is slow and steady–creating challenges, but not overwhelming you and yours.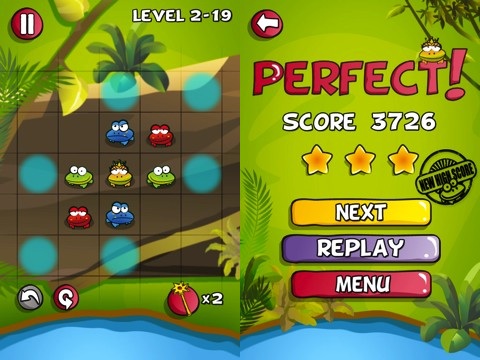 The Froggies puzzler app for iPhone and iPad is fully integrated with Game Center. There is a leader board, as well as Game Center specific achievements. You can email your Froggies iPhone and iPad app love, or you can share via Facebook and Twitter.
The Froggies iPhone and iPad app is a free download from the iTunes App Store, but requires in-app purchase to open all of the levels. The free version is also supported by an ad bar at the bottom of the screen. It was not intrusive on the iPad, but an ad menu can be more inhibiting on an iPhone screen. The free version supports 20 levels, but the paid version supports 100 levels. The Froggies game screen indicates there are more levels and challenges yet to come.
The Froggies iPhone and iPad puzzler app is a neat addition to your iOS game collection. The reasonably priced in-app expansion gives you an expanded ad-free experience with access to more puzzle levels, cute frogs.