Triple Town is a puzzle game for iPad, iPhone, and iTouch brought to you by Spry Fox LLC. The concept of the game is simple enough. The map is set up as a grid, and in each section you can build something. Grass is the lowest level of thing you can build. Three or more adjacent plots of grass combine into a bush. Three or more adjacent bushes form a tree. Three trees form a house, three houses form a bigger house, and so on. Along the way there are obstacles and ninja bears (yes that's right: ninja bears) that try to get in your way. Like so many good puzzle games it sounds basic but once you get into it you find that it starts to get exceedingly difficult. You also may foster a growing hatred for bears.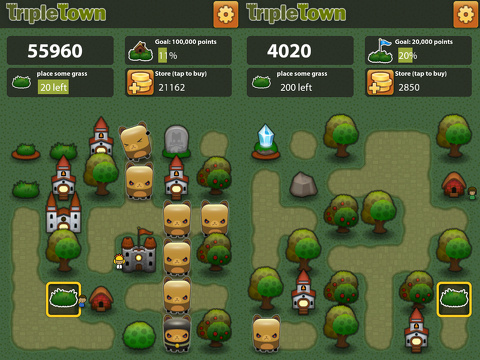 The animation has a charming style that adds to the fun. All the shapes have soft, rounded edges and the characters are cute without going too overboard. For instance the bears are pretty darn cuddly, but still have menacing red eyes to balance things out, presumably so you don't feel too bad about turning them into gravestones. You're trying to build a civilization here, and you definitely can't have nasty bears running around a respectable city. Besides, you need three bear graves to cash in on a Church (or non-denominational place of worship. I'm not sure how PC they're trying to be).
Triple town is free to play but also incorporates a novel pay system that deserves some major recognition. Each move you make is called a turn. The game comes with 1,500 turns for free, which allow for several hours of game-play. Once all your turns run out you can wait for them to replenish over time or purchase unlimited turns for $3.99. I personally find this pay system innovative and very reasonable. If you're addicted enough to play through a bunch of games for several hours and you simply can't wait for your turns to replenish then you should certainly find the game worth $3.99 of your hard earned cash, don't you think? Paying for the full game also opens up new maps and features, and you can also buy in game coins with real money, which allow you to buy objects and items to help get you out of tough situations. Just like in the real world the game affords opportunities for success to those with more money and less skills.
This 3rd Party App is available at the Apple iTunes AppStore. Browse the full list of
all AppStore apps
filed under the AppStore category.