The Christmas Carols for Kids, Sing Along Songs – Jolly Jingle iPhone, iPod Touch, and iPad is a cute, fun music app to help your children learn the lyrics to popular Christmas songs. The successful integration of gesture controls and fun graphics make it the perfect accoutrement for family bonding–or for keeping the kids constructively engaged while you frantically wrap gifts.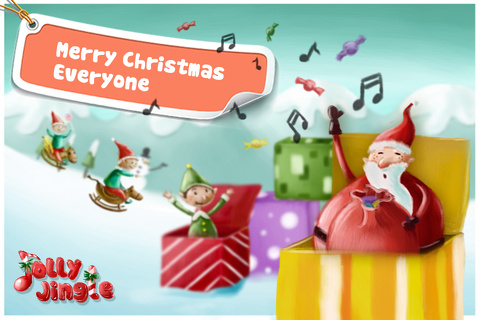 The home screen has a bright, festive, and engaging vibe. It reminds me of the vintage inspired, yet chic graphics of Mickey Mouse and Pluto holiday movies. Holiday appropriate graphics link through the Jolly Jingle iPhone app creating the navigation tools as well. You select your songs from a cute snow globe filled with holiday figures that complement each song. You tap the character in the snow globe to change selections. You press the music icon to switch to the song screen. The music selections include the bouncy, upbeat songs, "Rudolph the Red Nose Reindeer," "Frosty the Snowman," "Up On the Housetop," "Jingle Bells," and, "We Wish You a Merry Christmas."
The song screen is engaging and stimulating for preschoolers and elementary age children. The song begins, and cute angels, snowmen, nutcrackers, Santas, gingerbread men, kids, and unicorns bounce happily around the screen. You can use finger swipes to spin angels in bubbles, as you watch the lyrics pop up at the appropriate time at the top of the screen. The music can be changed between four arrangements by touching the candy cane icon. The selections include instrumental, kids choir, female solo, and piano solo. The kids choir is definitely the best choice.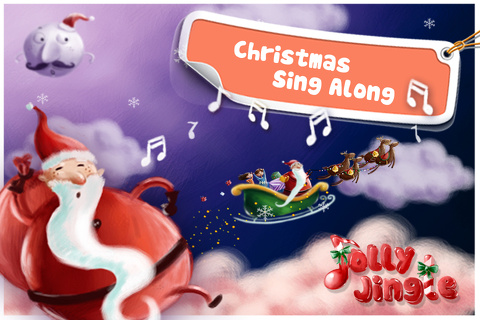 The Jolly Jingle iPhone, iPod Touch, and iPad app is a great way to teach your children and grandchildren Christmas songs. It is also a great addition to your cookie swaps and holiday parties, and it will, of course, be a fun soundtrack to your final days before Christmas.