Puzzle Retreat is a fun, challenging puzzle app for iPhone, iPod Touch, and iPad. You move ice cubes around wood trays of various shapes with responsive gesture controls. There is a simplicity to the wood cabin graphics and geometric pattern of the puzzles that contrasts sharply with the complexity of the puzzles. The Puzzle Retreat iPhone app requires strategic thinking for success.
The Puzzle Retreat iPhone app incorporates brief, unobtrusive pop-ups to explain gesture controls and new obstacles. The wood puzzle has ice cubes surrounded by a subtle color and empty slots placed throughout the board. The size and shape of the entire puzzle constantly changes. To play, you touch the ice cube and slide it to an empty hole. The puzzles are completed with simple vertical or horizontal touches on the screen. The puzzles seem so simple due to the efficiency of the gesture controls, but they are not.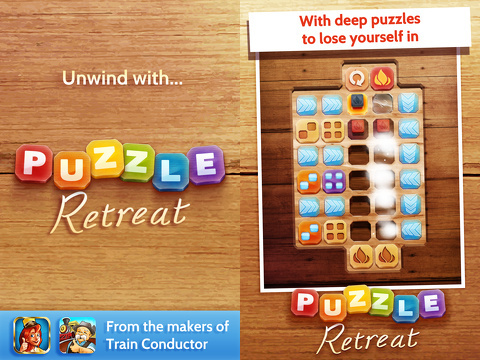 As you progress in the Puzzle Retreat iPhone app, new functions and multiple ice cubes are introduced. The ice cubes can slide on top of one another, so you must incorporate more strategy. Multiple ice cubes are introduced as well. Interestingly, the multiple ice cube starts from the same size as a solitary cube, so you may fill five holes of the puzzle in one gesture. Arrows are also placed on the screen to change the direction of movement. You may slide various numbers of ice cubes with one gesture control, but they slide over other ice cubes and change direction to successfully complete a puzzle. The addition of each new obstacle keeps you intrigued and thoughtful.
You may frequently find yourself starting the puzzle completely over by touching the circle arrow at the top of the screen. If you have just the last few moves wrong, there is a neat feature incorporated. There is a circle arrow on the starting position, so you can undo move by move. If you want to chat with other Puzzle Retreat iPhone app users, you can also touch the chat icon to engage on Facebook.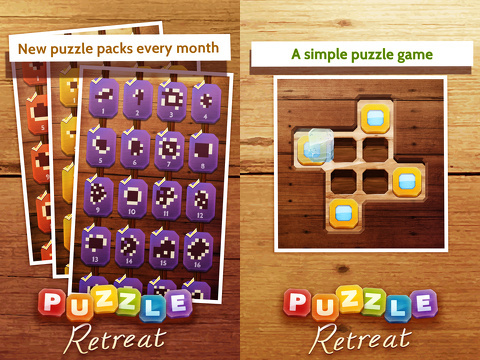 The $.99 iTunes App Store download includes 96 puzzles. There are additional packages of 24 puzzles for $.99. The Puzzle Retreat iPhone app is addictive, challenging, and lots of fun.
This 3rd Party App is available at the Apple iTunes AppStore. Browse the full list of
all AppStore apps
filed under the AppStore category.