Well-known Vinyasa yoga teacher Janet Stone has released a well-produced iPhone, iPod Touch, and iPad app bringing yoga and meditation videos and guidance to your iOS device. If you can't get to her workshops or classes, then the small investment of $4.99 swiftly downloads her beautifully produced videos filled with her knowledge and Vinyasa yoga sequences.
The Yoga with Janet Stone iPhone, iPod Touch, and iPad app has simple, clear functionality. You can choose between yoga sessions or meditations. The yoga sessions are grouped by flexibility, strength, and daily practice. You can also create a custom practice. The Yoga with Janet Stone iOS app features yoga practices categorized according to your level of experience. You may also incorporate music from your iPhone, iPod Touch, and iPad to further customize the yoga practice. The music provided has an appealing zen vibe that nicely complements the simple, light-filled set for Janet to lead you through your practice.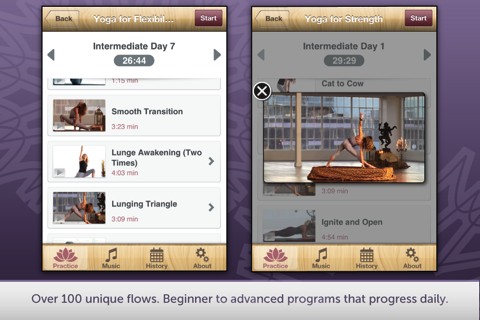 The Yoga with Janet Stone iOS app contains 13 meditation videos. The download time on wi-fi is quick and impressive. Each meditation is a specific topic to help you center, focus, calm, balance, and more. The meditations incorporate some instructions related to breath, movement, and position, as well as Eastern philosophy and its connection to your daily life.
The most appealing feature of the Yoga with Janet Stone iPhone, iPod Touch, and iPad app is the ability to craft your own yoga session. The navigation allows you to select from previously established themes with gesture controls from thumbnail images. For example, you first choose a vinyasa for the beginning. You can choose from twists, side stretches, wrist opening, shoulder openers, and advanced arm balances. You can preview each vinyasa, as well as add it to the sequence. You title your practice and save to revisit. You can share your Yoga with Janet Stone experience via Facebook. For lolo account holders, you can add these sessions to your profile.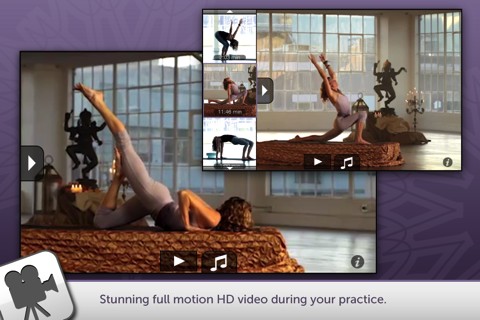 Yoga flow junkies will love the Yoga with Janet Stone iOS app. It's a great value for $4.99, as workshops and classes with Vinyasa instructors can be extremely expensive.