The Prismatic: Always Interesting iPhone app attempts to create a customized news feed of your interests, but its functionality relies too heavily on analyzing the information contained in your existing social networks' feeds to truly reflect your interests and doesn't give you the right chance to add categories and online content providers.
You can establish a log-in with the Prismatic: Always Interesting iPhone app through your Google, Facebook, or Twitter accounts. The interface for establishing your authorizations is fresh, bright, and modern, as it is punctuated by bright orange circles and intuitive gesture controls to highlight preferences. A key element of establishing your account is the authorization of location services to help you find interesting things and sources near you. The suggestions I received were a peculiar blend of random and spot-on, but the random items were so puzzling that they were distracting. You can also select from online news and lifestyle publishers in your area to follow. Of course, any news sources and websites you like in your social networks become part of your news feed as well.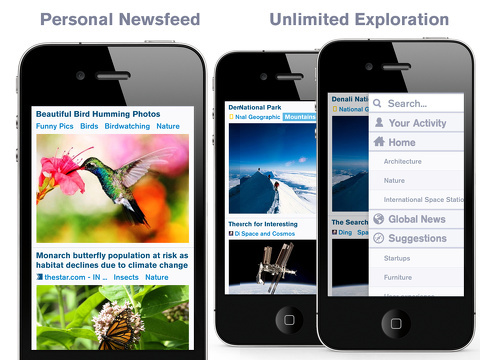 When you have completed the sign-in process, the news feed is fairly dull and unexciting. Each article or feature is in a simple list form. There is no strong visual presence to break each article apart, so it just looks like a blob of text. There are other suggested sources and an opportunity to peruse categories and different providers, but it is buried in the sliding menu. The lack of organization was especially apparent and disappointing, as topics and providers were commingled. I would recommend building this selection process into the registration process, in order to bring a new punch to the Prismatic: Always Interesting iPhone app news feed. Otherwise, the Pristmatic: Always Interesting iPhone app falls into the Facebook Camera iPhone app missed opportunity category. The content is available, but it lacks texture, excitement, and purpose.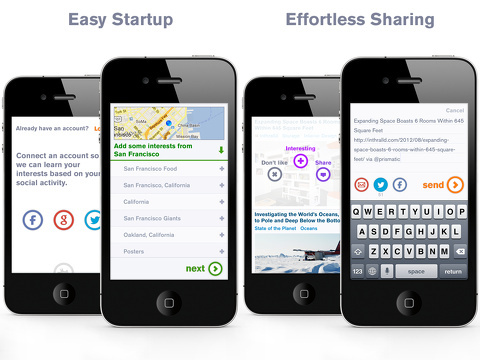 The Prismatic: Always Interesting iPhone app has an enticing premise and intention, but it needs to beef up its registration process, focus on organization, and enhance the news feed visually. The story, once you touch it and examine it fully, is nicely presented and incorporates comments and sharing from multiple sources. But, the frustration and let-down of the interface getting to that point undermines the quality of the content. Great examples of iOS apps that bring together your social network feeds successfully are ShowYou and Streamified, and many of the tools and functionalities could inspire the developers of Prismatic. Right now, Prismatic: Always Interesting is just not interesting.