The PhotoString iPhone app helps you create vertical photo collages from the photos you have stored in your photo albums. If you love the vibe of photo booth photos, you'll appreciate the simple customization options to make your own on your iPhone.
Graphically, the PhotoString iPhone app leaves a lot to be desired. However, the lack of visual interest does not undermine the great functionality of the app and the excellent vertical photo collage it creates.
From the home screen, you select the format for your vertical photo collage. There are four choices–landscape, square, landscape with copy box, and banner style. With the banner style, you can customize the copy in a banner of the right hand top corner of each photo. To change the font, you simply visit the settings button on the home screen as well. The selection of fonts is extensive, and you'll certainly find one that suits your aesthetic or compliments your logo. One other important feature in the settings menu is the photo quality. You may want to choose different resolutions. The default is medium, and I was extremely pleased with its quality.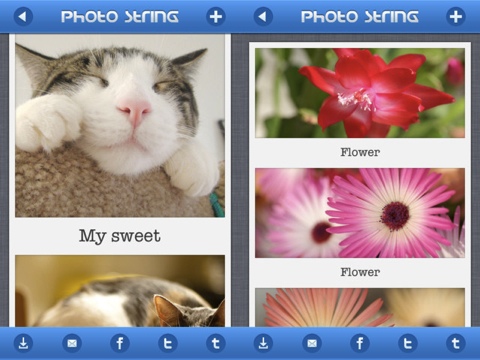 Once you select your format, you move to a blank screen with a plus in the top right and a tool bar at the bottom of the screen with saving and sharing options. As you touch the plus button, you fill the blank screen with your vertical photo collage. You can shoot a photo through the PhotoString iPhone app, or you may choose from your photo albums. You type in your photo caption, then it is automatically saved and viewed in the app. The PhotoString iPhone app responds quickly and nicely, as it updates your photo collage. With one touch, you can email, save, or share with Facebook, Twitter, or Tumblr.
For a small investment (currently $0.99) you have photo booth capabilities at your fingertips with the PhotoString iPhone app.
This 3rd Party App is available at the Apple iTunes AppStore. Browse the full list of
all AppStore apps
filed under the AppStore category.