The Gifture iPhone app transforms your photos into animated gifs. In the growing crowd of iPhone, iPod Touch, and iPad photography apps, the Gifture app leads the pack and stands out with well-executed functionality, navigation, and social networking capabilities.
Developers at Toastt have seemingly devoted their time and energy to creating agile, responsive functionality in Gifture for iPhone. They did not, however, break the mold in their navigation. You move through the Gifture iPhone app just like Instagram. You press the camera button, and you can shoot a photo or select multiple photos from your iPhone, iPod Touch, and iPad camera rolls. You have the opportunity to move and scale your photos to customize your gif. Then, you can choose from eight different filters with vintage vibes.
My personal favorite is the inverted filter–a bright pop of color juxtaposed with stark contrast in movement. The inverted filter brings pop art functionality to your iPhone. The photos are quickly processed by the Gifture iPhone app. I was impressed with the speed of the processing time and the precision of movement in the gif. You can further adjust your gif by pressing the timer icon. You can increase or decrease the speed. You select with a touch how many frames per second you would like for your Gifture. The adjustment is quick and easy in this instance, as well. You can tag and title your Gifture iPhone app produced gif. Finally, you can share with one touch to Twitter or Facebook.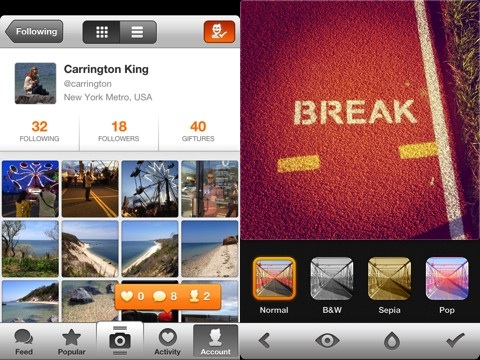 The Gifture iPhone app also encourages you to build and cultivate a Gifture social network. You can tap into your Facebook and Twitter networks to follow and encourage following. You may also make the radical and sometimes welcome choice to keep your Gifture iPhone app account private with one touch in the settings menu. As with Instagram and Pinterest, the popular Gifture iPhone app gifs are presented in thumbnails in the popular news feed. You can like and comment, and those actions are tracked in your activity feed.
The Gifture iPhone app impressively animates your iPhone photos and gives you the chance to check out your photography from a cool perspective. The Gifture iPhone app is currently available for free, but it's smooth function and nimble processing makes it well worth much more.
This 3rd Party App is available at the Apple iTunes AppStore. Browse the full list of
all AppStore apps
filed under the AppStore category.