Yes, there really is an iPhone app to bypass the dreaded music and frustrating wait when you call a company's customer service line. It's Fast Customer, and it's a free iPhone app. Most importantly, it works brilliantly.
Fast Customer's iPhone app is not glamorous or flashy. It's a workhorse. It has simple interface and navigation to get you talking to a human as quickly as possible.
When you first open Fast Customer, you will enter your iPhone number. Then, a contact list appears of more than 3,000 company contact numbers. Fortunately, for large companies with multiple products and services, Fast Customer's iPhone app has already categorized the different customer service numbers for you. You don't have to spend time running in circles with customer service representatives who cannot help you. Instead, you can actually go for a run.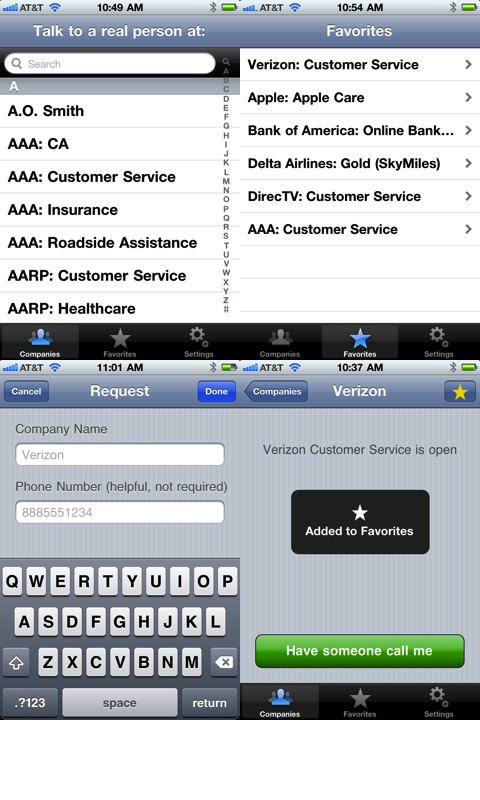 About three weeks ago, I spent a substantial amount of time calling Toshiba to get rescue disks for my son's computer. After multiple phone calls to different numbers, finally getting the right number, and calling back after receiving my disks, I spent about two and a half hours on hold. Once, Toshiba scheduled to call me back, but didn't. I was irritated and frustrated.
I thought I would give Toshiba another try with Fast Customer. I scrolled through the company directory. I pressed Toshiba. The Fast Customer iPhone app screen indicated customer service was open and placed the call. The next screen asked me to gauge if I felt happy, neutral, or angry. Then, it asked the purpose of my call–question, comment, or complaint. Fast Customer's progress scrolls on the menu bar at the top of the screen, so you know it is active. You can tweet directly from the screen that Fast Customer's iPhone app is taking care of your wait and cites the specific company. It is also possible to just put down your phone and go about your life.
After two minutes, my phone rang. It was a Toshiba customer service representative. I didn't know whether to be thrilled or sad I had not discovered Fast Customer earlier.
Fast Customer's iPhone app can be activated via text message, as well as SIRI. Companies can also request to be added to the Fast Customer database via the settings menu. Fast Customer is also currently developing an API, so you can add yourself to stay in the loop.
Hours of muzak may truly disappear from your life with Fast Customer. It's incredible, useful, and life-changing.