A little bit Google, Yelp, Angie's List, and TripAdvisor, Local.com's iPhone app is a location-based digital directory to help you plan your day. It incorporates neat features like voice recognition, directions with Google Map web app integration, and easy sharing options.
The home screen is dense and dynamic, but is reasonably clear. The top of the screen has a simple field to type or speak a search. There is a map identifying your current location, the weather, and suggestions for searches. At the bottom of the screen, there is a menu bar to navigate to home, search, and profile with one touch. The more icon leads you to a screen to check out deals, events, and activities. Just above the bottom menu bar are the selections for categories ranging from restaurants and auto to pets and real estate. The icons have a bright, bold visual presence and are easily scrolled with horizontal finger swipes. I would recommend leaving the visually interesting categories at the bottom of the screen, but incorporate an opening and closing left menu bar for the items currently residing in the bottom of the screen. The current layout is not confusing, but the functionality exists to hide the less glamorous items. With the screen filled with nicely presented content, users feel like they're getting more.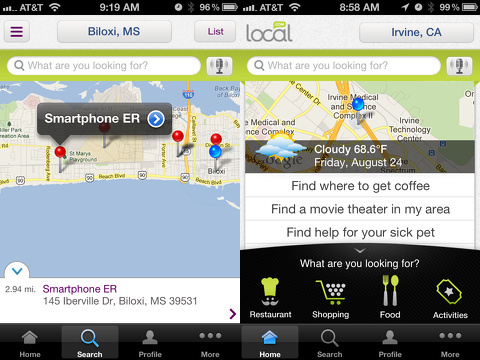 When you search for a feature using keyboard or voice, you receive a list of locations or sources of information. The top of the list has ad-supported recommendations. The rest of the list is sorted by proximity to your location. For each restaurant, plumber, or casino, there is a chance to call; get directions; visit the website; add to favorites; share to Facebook, Twitter, email, or text; and write a review. There is typically an ad at the bottom of each resource as well. The ads are not obtrusive, and they are placed in locations where gestures required to operate the Local.com iPhone app would not overlap. If you want to access ad-supported content, then you can do so without interrupting your experience with the Local.com iPhone app.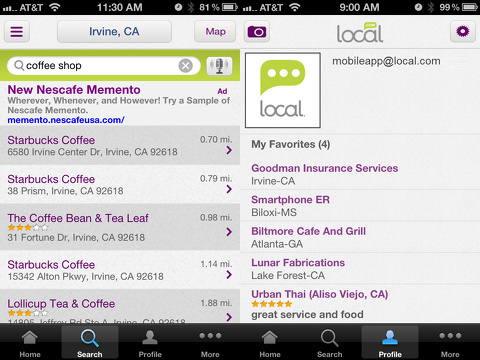 The Local.com iPhone app harnesses tons of information in a neat package. It has just the right amount of information to quickly research options and make decisions. It just needs to work on streamlining the navigation to access the efficiently presented content.