The TourWrist iPhone & iPad app delivers gorgeous panoramas with amazing clarity and precision. It is the perfect place to dream about where you will go when you win the lottery, your next vacation, or your next home. The TourWrist iPad app incorporates sophisticated features to share a TourWrist panorama in the TourWrist iPhone and iPad apps, online at tourwrist.com, and your online and social networking marketing campaigns.
The TourWrist iPhone & iPad app home screen has an attractive visual aesthetic and simple navigation. Your options for exploring the TourWrist iOS app panoramas are outlined on the left side of the screen. You can browse panoramas or check out the tour of the day, property of the day, and photographer of the day. You have the option of selecting a tour from a Google map on the right side of the screen.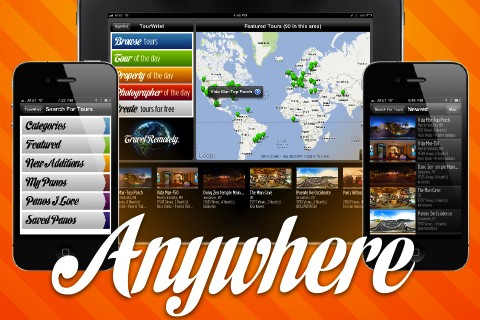 Several tours are also available by swiping your finger across the bottom of the screen. You will appreciate the ability to explore the TourWrist iPad app from several different functions. If you have a highly defined search, then you should choose "browse." When you select browse with a touch, you may filter through touches on the screen different panoramas. If you are interested in real estate, you can select from different types of real estate and select from a map view.
Once you select a TourWrist app panorama, you can explore with gesture controls. You touch the "touch" icon, then swipe your fingers to explore the panorama. You can access info about the panorama, save the panorama, get directions, and share via email, Twitter, and Facebook. If multiple perspectives are uploaded, then you can check out those as well. I particularly like and appreciate those panoramas where shots of the sky are included. You can truly immerse yourself in that place with that functionality.

The quality of the panorama depends largely on the quality of the photographer. The TourWrist iOS app instructs you to upload tours via tourwrist.com. You should be able to shoot panoramas with the TourWrist iPhone app. The TourWrist iPhone app has great intentions with its camera interface including a nice horizon line to help you take a nice shot. Unfortunately, the camera stalls and doesn't respond to gesture controls as well as it should. When I browsed through several TourWrist iPhone & iPad app panoramas, I could definitely see that others must be experiencing similar problems. However, the professionally produced panoramas in the TourWrist app are outstanding and breathtaking. Hotels, restaurants, travel destinations, real estate agents, and marketing pros should be all over the TourWrist app. Professional photography is a fairly common aspect of marketing, so adding panorama shots to upload to the TourWrist app and to create an embedded URL for MLS, websites, and social networking is a huge added value.
The TourWrist app is a great tool for exploring our beautiful world – and for marketing pros to sell parts of it.