You will no longer dread the task of taking minutes at meetings with the incredible help of the MinuteTaker iPad app. The intuitive, clean interface of this well-crafted iPad productivity app not only helps you create and share thorough minutes and action items, but it also provides a cohesive picture of projects with successful integration of Dropbox and photo files. The MinuteTaker iPad app gives you and your team a fantastic blueprint for effective team work and coordination.
The MinuteTaker iPad app starts with a solid home screen containing a tutorial in the MinuteTaker format to jump start your next conference call. The excellent tutorial clearly and succinctly covers the functionality. You start a new set of minutes by pressing the plus from the home screen. You title the meeting, and you can use location services to identify location. You may also choose from recent places or contact addresses. You add attendees by typing names into the search bar.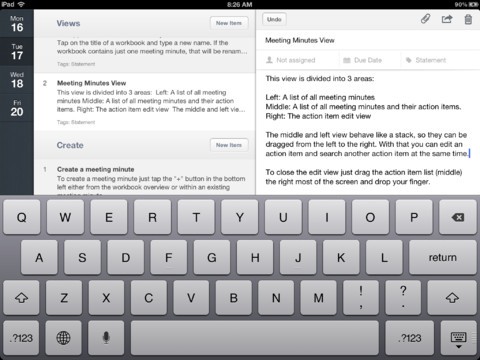 The MinuteTaker iPad app pulls up attendees from your contacts. You also select the minute taker by touching the screen. Once these items are complete, you start to create your minutes. The MinuteTaker iPad app expands in columns as you create your meeting's minutes. The far left column allows you to access previously saved meeting minutes with a touch. The middle column is the list of items discussed. The right column allows you to create an item and add detailed information. The interface is efficient, and it makes for quick movement back and forth. Invariably, twenty minutes later, you may want to expand in greater detail on a previously discussed item. You simply touch the item in the middle column, and you can update details in the right column.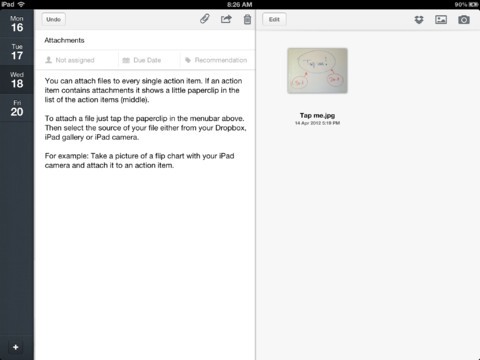 The MinuteTaker iPad app will certainly work best, if you have a bluetooth keyboard. You can use gestures to add text or pertinent information on the screen. Or, you can use your tab button to move through the fields. For each item you enter, you name it. You also have the ability to assign the task to an attendee, as well as assign a due date. The MinuteTaker iPad app has slowly opening functionality to give you just as many options as you need. With highly functional productivity iOS apps, some developers have a tendency to make every possible function available. This overwhelms the iPad screen–and you. The MinuteTaker iPad app is user-friendly, and it guides you through the process with ease. You can focus on accurately taking minutes instead of fiddling with unnecessary gestures and functionality.

The MinuteTaker iPad app incorporates some neat features to increase efficiency and enhance accountability. The tag feature for each item allows you to create a tag or use the excellent defaults: action, statement, or recommendation. You can also add collateral information with just a few touches. You can incorporate items from DropBox, as well as share minutes to DropBox. You can add photos from your iPad camera library, and you can take photos from within the MinuteTaker iPad app. You can share each item via email, add to your calendar, print, or mark as open. If an item requires a due date, you can double tap it to mark complete. There are color codes, so you can quickly glance through the list of items to see those not yet completed. You can filter and search your meeting minutes and action items by keyword. Exporting is supported via PDF files, which can be placed in DropBox or sent via email. iCloud is not supported by MinuteTaker as of right now.
The MinuteTaker iPad app is an incredible value at $7.99 for the depth and breadth of functionality. Typical word processing software is much more expensive and much less nimble and agile. The MinuteTaker iPad app may actually make a meeting fun, and that's priceless.