DragNSYNC creates a firewall to secure documents, photos, music, and videos on your iPad. The DragNSYNC iPad app incorporates successful tools, functions, interface, and navigation used effectively by Dropbox and iOS pop-up password security.
The set-up and authorization process is simple, yet layered. You enter your name and email to establish an account. You move to a second privacy and security process that cannot be changed. You enter a passcode and verify it. Next, you set up a recovery email. Finally, you create your own secret question and answer. This process creates an additional sense of trust before you have explored its tools.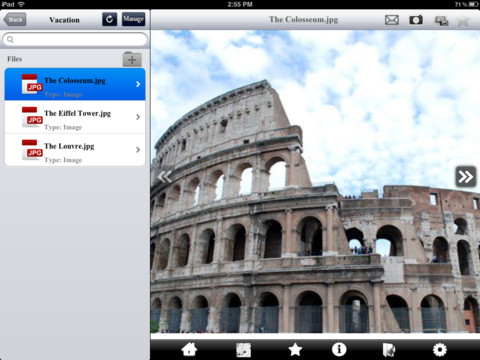 The DragNSYNC iPad app team also sends you a helpful introduction email immediately after registration to help you maximize your use. I would recommend reading the email and checking out the information on the website, as there is no introduction to the gestures and icons within the DragNSYNC iPad app's functionality. After you get a sense of the tools, gestures, and features, you can find more detailed information by touching the i icon. in the lower right hand corner of the screen.
The DragNSYNC iPad app has interface similar to Dropbox. The list of folders is in the left hand column, and the right two-thirds of the screen is the space for photos, documents, and other items you may open and save in DragNSYNC. You simply start selecting to open documents in DragNSYNC from your email and other apps by pressing the share icon. Then, you can file it into one of the default categories–my files, my music, my photos, or my videos. You can also create custom folders to help with organization. Generally, for most new actions in the DragNSYNC iPad app, you are required to put in your security code. So, you will be asked to enter your passcode frequently. It's reminiscent of making a purchase or changing settings in iTunes–you may be asked enter your passcode on multiple occasions. The DragNSYNC iPad app does allow you to save items to your iCloud account, but be aware you must open them within the DragNSYNC iPad app.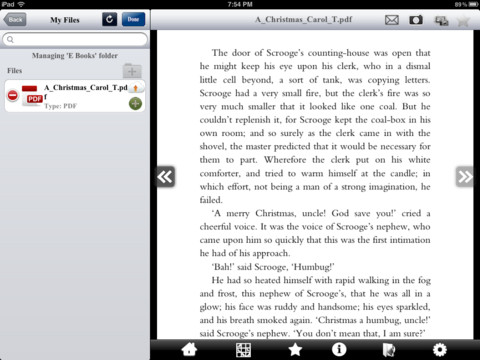 One of the coolest and most desirable features is the in-app camera. Photos and videos you shoot with the in-app camera do not show up in your photo stream or photo galleries. You can also upload photos from your photo stream and galleries to secure them as well. Those icons are in the upper right hand corner of the screen.
The DragNSYNC iPad app incorporates desirable tools and features. A reasonable $2.99 download from the iTunes App Store adds an additional layer of privacy with familiar functionality.