Are you drowning in paperwork and forms that must be completed, signed, and returned? Did you complete a form that was e-mailed to you for a signature, but you ran out of printer ink to print, sign, and scan back? Did you get the call from your child's teacher that you forgot to sign a permission form for the field trip, and the class is leaving in ten minutes? The DocuSign Ink app for iPhone and iPad makes quick work of your paperwork and signature needs while maintaining security measures.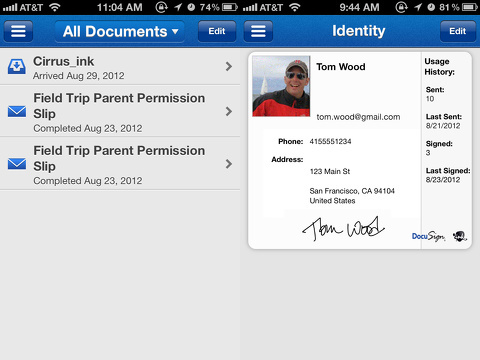 The DocuSign Ink app for iPhone and iPad has a quick start-up process. The home screen has straightforward functionality. You create an account and verify your account. You then create your signature and initials in a bright pop-up. You can change the color of the ink with a touch, and then you use your finger to create a signature. The gesture controls were extremely responsive, and the interface produces a much-more delicate, pen-size result. You can also add a photo of yourself for additional identity protection, as well as create a password.
You can open multiple types of documents from different access points. If a document, PDF, or a photo of a form has been emailed to you, you can open from the share icon in the top right corner on your iPhone and iPad. You can also pull documents from Box, Dropbox, and Google Drive with simple syncs. It is also possible to add documents from iOS apps.
Fortunately, the DocuSign Ink app for iPhone and iPad gives you simple drag and drop tools to complete forms as well. There is a menu bar at the top of the screen to select from signature, initial, my name, date signed, text, and checkbox. When you open a document that needs a simple signature, you touch the signature icon and drag it to the appropriate location. You use gestures to enlarge or shrink the boxes. You can drag the text icon to a portion of the form, and the keyboard will pop-up for you to add text. The integration of a checkbox lets you move swiftly as well. Not only can you complete, sign, and initial a form, but you can also do it neatly.
The DocuSign Ink app for iPhone and iPad is a free universal download. To harness full functionality for a soccer mom or rental agent, you will be required to make in-app purchases. If you need to email a document to request a signature, you will be required to purchase additional "envelopes" to send the document. I can certainly appreciate that functionality, but a purchase of a family plan download would be a great idea. If both parents and any children of legal age need to sign a document, it would be great to be able to create different signatures and identity cards. Like Square, DocuSign Ink's iPad app requires you to activate location services and logs the date, time, and location of signature.
The DocuSign Ink iPhone and iPad app addresses a common aspect of modern life with smart tools and functionality. This is an amazing tool that saves time and eliminates obstacles.