Zoom
User Reviews

A new cydia hack called Sparrow Push has been released that adds push notifications to the Sparrow app for iPhone, called Sparrow Push. If you've already installed Sparrow for iPhone from the App Store and want to have push notifications support on your jailbroken iPhone or iPod touch, you can find the Sparrow Push mod in Cydia today. The obvious requirements are 1) the Sparrow iPhone app, and 2) A jailbroken iDevice with Cydia installed.
With Sparrow Push you will get notified when Sparrow is running in the background, which is currently lacking from the native Sparrow app at this time. While the Sparrow app was highly anticipated and is an amazing product, it lacks one feature that many users are disappointed about. Sparrow Push uses IMAP idle to provide this functionality.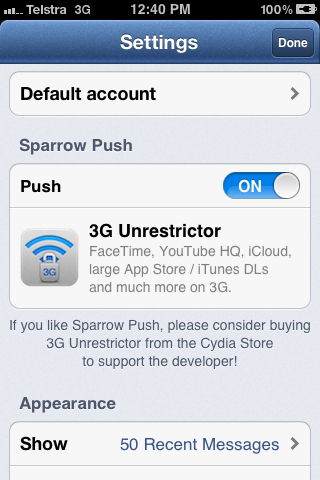 Note that the Sparrow Push mod does not currently have Notification Center support, and it does not handle mailto: links and other native tasks like creating events and contacts while reading emails. The developer Kim Streich has noted that these features will be coming to Sparrow Push as part of future updates to the app. The one additional feature that you get now is that the app will try to restart Sparrow for you when your restart your iPhone or if the app quits from running in the background.
You can download the Sparrow Push app from Cydia and here is a direct link to the .deb package file if you want to install it manually via SSH.
Use iPhone mods and hacks at your own risk! Installing 3rd Party iPhone apps requires you to jailbreak the iPhone before installing the native software and apps. You can use Cydia to install this app. Browse the full list of all iPhone and iPod touch native 3rd party apps filed under the software category.
Download Sparrow Push from
Cydia
Developer: Kim Streich
Version: 1.0-2
Size: 0.34 MB