Cut the Buttons is an iPhone game created by app developer Open Name Ltd. and sells for $0.99 in the App Store. It should be noted that, although its name is similar to Cut the Rope, the two games are actually nothing alike other than the cutting concept and the first two words of their names. For this review I played Cut the Buttons app on my factory unlocked iPhone 4 thought it will also work on any iPod touch. I've always enjoyed playing games on the iPhone. Cut the Buttons is unlike any other I have played thus far, as it requires a very dextrous hand to play.
The general concept in Cut the Buttons is that you have a scissor whose blades are pointing left, while the handle is facing right. Colorful swatches of cloth suddenly appear on the screen, as though floating, and they have buttons sewn onto them. The idea is to control the handles of the scissor with two fingers — forefinger and thumb — and snip away at the buttons to gain points. A few swatches in, however, you have some obstacles to avoid, those being buttons that are not merely stitched onto the fabric but bolted on with a screw. When you attempt to cut those, you lose points, which is extremely frustrating, especially if you're stubborn enough to forego reading the rules, like I did. I have played Cut the Buttons a few times since downloading it last night and was quite confused when I had actually beaten my high score, only to go all the way back down to a score of 2.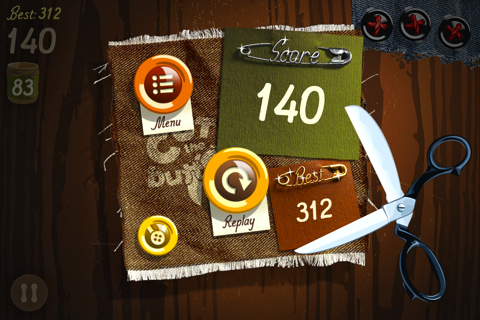 Cut the Buttons can get somewhat tricky at times. Specifically, your scissor can literally do a 180 on you as it has for me in several games I have played thus far. I almost always started with the blades facing left, but somehow, in at least four attempts, they ended up facing right instead. However, the interesting thing is that I did better playing left handed in a single attempt than I did in all my others, in which I played right handed — and I'm a righty.
The graphics and music in Cut the Buttons are winners. The images of the scissor and swatches with the buttons are adorable and very realistic looking. The music is very soothing, much like that of other games you can find in the App Store. It's a funny contrast with the game itself, however, because much like with Fruit Ninja, you might find yourself scrambling to make some of your trickier cuts.
Overall, the concept of Cut the Buttons is a good one. It's a unique and fun game, but it isn't always easy to play. Also, certain individuals may have difficulty in playing because of the two finger method. For instance, I wouldn't recommend it to anyone who has arthritis. It just doesn't feel natural using your fingers in the manner Cut the Buttons requires. However, if you enjoy a challenge and don't have any problems with your fingers or hands, you will thoroughly enjoy Cut the Buttons.