Jambalaya is a simple and free word game for the iPhone and iPad developed by Fastspot. In this app you are given seven tiles to make as many words as you can with in two minutes. You gain points for each word that is at least three letters long. You lose bonuses by making a mistake. Bonuses and multipliers are gained when on you keep on making words without any mistakes.
The controls for Jambalaya are very simple. Draw a line from outside of a tile to another to make a word. You cannot use the same tile in making that word. Putting your finger on a tile and dragging it will let you move it around. Shaking the iDevice will shuffle the letters around. You can get special bonuses other than multipliers such as a bonus tile, more time, and/or reusing letters to make words that are longer than seven tiles. These bonuses usually last for one word or a short period of time. Basic multipliers end when you make a short or unrecognizable word but will resume when you make longer words. You can make words like ass or something like that. You most likely cannot use names (was able to use Ares), abbreviations like CEO, and some actual words that it won't recognize at all. When you pause the game, it shows you your score, the number of words that are formed of each length with the minimum and maximum of that length, and the words that you have played in the current game. On the game over screen, it shows the above with the words that you didn't play. The controls work well most of the time just don't rush or you might lose your bonuses.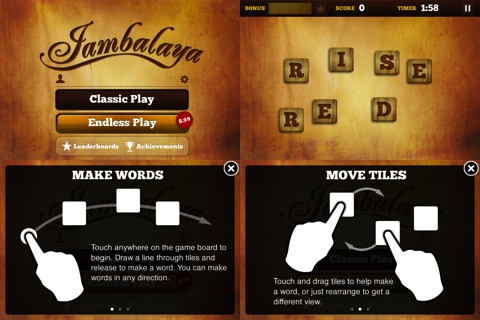 Jambalaya has a simple and polished look. The tiles and the background have a wooden look to it. All the letter tiles are capitalized. It reminds me of the alphabet blocks I had when I was a kid. You can see the white line you draw and whichever way you use it to make words. Despite a lack of variety in color, this app looks sharp and for the most part informative.
The audio for this app is lacking. There is no music and no iPod music support but you can listen to music from other applications while playing this game. There are sound effects such as when starting a new game, making a line through a letter, getting a random bonus, making an invalid word or a mistake, and so on. There isn't much to say about the audio for Jambalaya but I didn't feel there was a need for music but it would have been nice to have iPod music support.
Jambalaya is free on iTunes. There is an in-app purchase for $0.99 to unlock endless mode where you can find as many words as you can before the word count reaches zero. This game is easy to get into and can be resumed if you need to do something else. There are leaderboards and achievements through Game Center. I wish there was a way to look up what words you've made. Jambalaya can get a bit boring when you get the similar seven tiles. I hope Fastspot will fix a few things like iPod music support. Overall, I think Jambalaya could use a few tweaks here and there but it is a well-rounded word game.
This 3rd Party App is available at the Apple iTunes AppStore. Browse the full list of
all AppStore apps
filed under the AppStore category.