This is a review of the iPod Touch/iPhone game called Spice Bandits formerly known as "Spice Invaders" before the name change. This application was developed by Chillingo Ltd and is a free download in the App Store. I used my iPhone 4 to do this app review.
First of all, before I review the game itself, I would like to point out that it is a free application. So there is automatically no immediate reason not to try it out because you have nothing to lose. It is a Tower Defense game, so if you are familiar with these kinds of games, then you know what to expect for basics. For those that aren't familiar, it offers a brief, but informative tutorial to get you started. From what I could tell, you can't skip it which might be annoying to experienced players, but it's quick enough that it shouldn't be too problematic.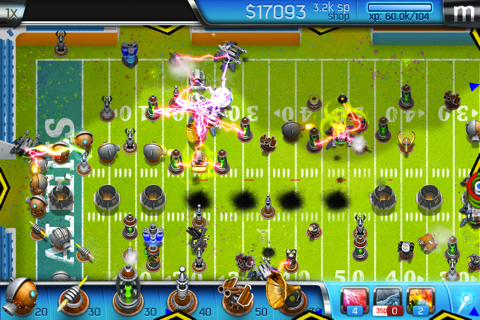 Concept
On each level, you will be spending in-game money to build towers that have different abilities to kill the humans that attack your base. You unlock new towers by collecting spices and leveling up. If you choose to spend no money on this app, then spices can only be collected by completing levels on single or multi-player. You gain more spice for completing multi-player levels.
Controls
The controls are actually pretty smooth, which is always a plus. The only issue I have run into so far is that it can be awkward to move where you are on the map while trying to place a tower and it may cause you to place a tower where you don't want to. I'm not sure this is easily fixed though, since both actions require similar actions.
It is very simple to force waves to come out, though I had to figure out how to do it myself. The developer might consider making that part of the tutorial or adding a pop-up at some point about it.
Audio
The audio is great and the music is really catchy. I didn't hear much in terms of variety, but that's hardly a big deal.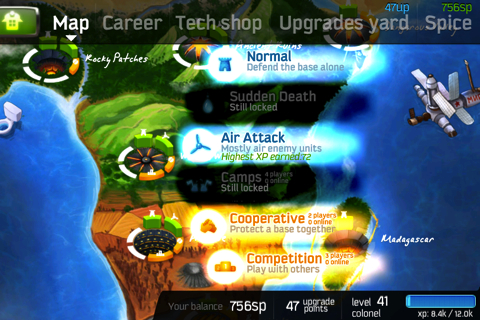 Graphics
The graphics are very clean and very crisp with a colorful atmosphere. This is easily where this app shines the most. The accessories section where you can dress your alien feels a little limited.
Overall
This app offers a very fun style of play and is easy to get into. It's free, so there's no reason not to at least try it. If you're anything like me, you'll find yourself playing it more and more. I can easily see myself playing this app for a while. There are no major problems that I could find.