Beat Sneak Bandit is the third iPhone app produced by Simogo, and it definitely stands out as an engaging, challenging iOS game that offers hours of playtime. It's really difficult to compare this to other apps that are out on the iTunes store because it offers a unique way to play that I haven't seen in other games. Although slightly pricier than many puzzle games ($2.99 at the time of this review), it's worth the price.
I played this app on an iPhone 4, but you can also play on an iPod Touch or iPad. The premise of Beat Sneak Bandit is that Duke Clockface has stolen all the clocks in the world, and it is up to Beat Sneak Bandit to get them back. After a short lead-in, Bandit is inserted into 2D game levels, moving only left, right, up, or down, with the ultimate objective to retrieve all four clocks in a level and get to the finish clock. You can finish a level without retrieving all the clocks, but you must at least get to the finish clock to successfully complete a level.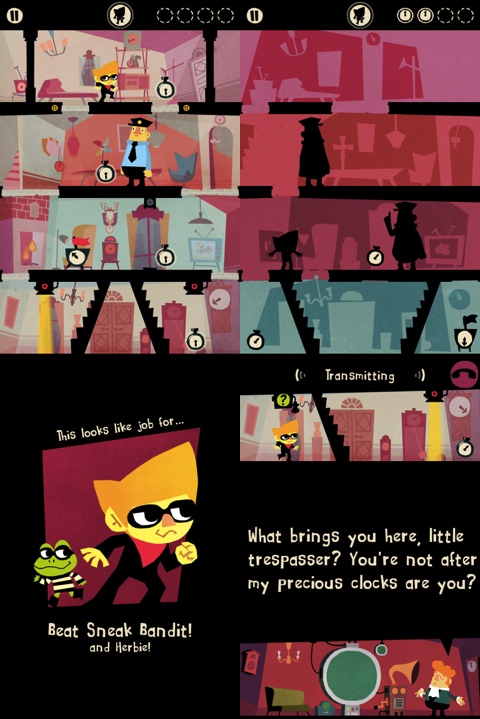 The application is quite stylized with a polished, retro-anime look, but what really makes it unique is the manner in which you move the hero: Music plays in each level, and it is only on the beat of the music that Bandit can actually move. Each time a player taps the screen with the beat of the music, Bandit will move forward one space. If you accidentally hit off the beat, you won't move, and you may lose one of the clocks you have not retrieved.
By hitting walls or other objects, Bandit can turn in the opposite direction. Along with navigating across floors with sliding walls, trap doors, and stairs, many levels present hazards that Bandit must avoid like security guards, spotlights, or vacuum cleaners.
The music is very catchy, and it lends itself well to guiding a player to tap on the beat. Generally, the music is not annoying, however I did find that after playing a level several times trying to get all the clocks, the music did start to bug me. The programmers must have realized that could happen as well. After trying 3 or 4 times not finishing a level, the game offers to let you go on to the next level and skip the level you were on. I tended not to do that, though, because I wanted to get to the "shadow" levels that are available in each chapter if you collect enough clocks.
With all the choices for puzzle games that are out in the iTunes store, I would definitely recommend buying Beat Sneak Bandit. The only limitation I see is that because the music is so crucial to gameplay, you can't play with the volume muted. Still, I think that is a small limitation of the application, and the music alone makes for immersive puzzle gameplay.