8bit Ninja by Dogbyte Games is a free retro-based iPhone and iPad fighter game available in App Store from Gabor Arpad Korda. 8bit Ninja features a retro 8bit ninja character who must dodge pieces of fruit that fall from the sky. When a piece of fruit hits him, it squashes him and gameplay starts over.
As you play the game, your ninja gains experience and levels up just like a regular RPG. You pick up coins as you run back and forth which can be used to purchase weapons, arenas, new ninjas and power ups. As you gain levels, new items are available for purchase through the store. You also can pay the developer money to gain extra eggs to purchase items. At the end of each turn, your results screen appears. It shows your progress towards your next level and your power levels. 8bit Ninja integrates with the Gamecenter to keep track of your scores and let you review your friends scores.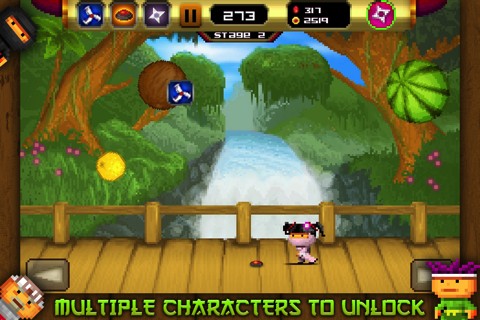 You have two options for playing 8bit Ninja: by touch and by tilt. By tilt, your 8bit ninja moves back and forth when you tilt your iPhone or iPod touch or iPad. By touch, you use your finger to move the ninja to dodge the pieces of fruit that fall from the sky. You pick up the eggs and power ups as you go along. The most common power up is a spinning sword which slices and dices the fruit. It gives you a respite from running from the fruit for a few seconds when you stand underneath it. Other power ups are available for purchase with your eggs.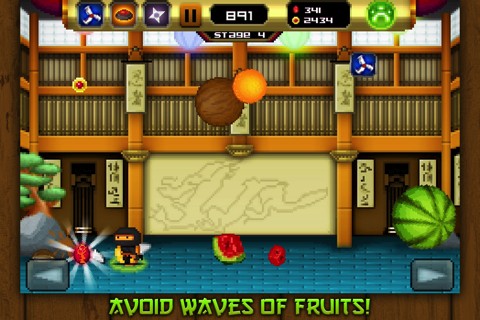 8bit Ninja is a fun, addicting game for your iOS device. The graphics are intentionally left "retro" as the name of the game implies to remind old school gamers of the RPGs of the 1990s. You get many options to level up your character, purchase items and make the game more interactive.
Overall, I would definitely recommend 8bit Ninja for your iPhone or iPod touch. It is a free application from the iTunes App Store but I would be willing to pay a small fee for 8bit Ninja if asked. It is ad-supported to help the developers cover their own costs. The ads display only during the menu screens and not during gameplay. Any in-app purchase such as egg packs in the shop automatically removes the ads from your application. For a free software program, there really is no reason not to take a chance on 8bit Ninja for your iOS device.
This 3rd Party App is available at the Apple iTunes AppStore. Browse the full list of
all AppStore apps
filed under the AppStore category.