Mech Guardian is a new game for iPhone and iPad developed by Chen Guo. The app's concept revolves around a floating machine, representing the last remnant of human technology on Earth. Humans have since fled the planet due to the profusion of trash. The trash gradually develops intelligence and begins trying to take over the planet. As the Mech Guardian, your job is to stop the trash from taking over the abandoned planet Earth. It's a relatively simplistic story concept and not one that will win any Pulitzers, but it gets the job done. We used the iPhone 4S to play Mech Guardian, the sophomore title of SunTownship for this app review.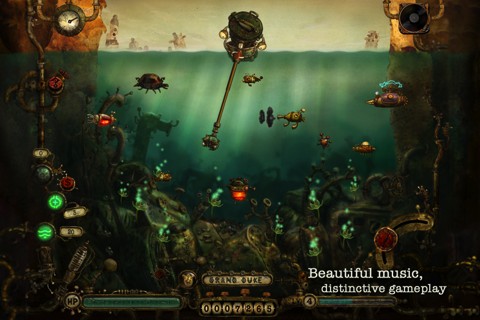 Controls
The controls are as smooth as should befit a $2 application, with the little robot moving to the left and the right as you swipe your finger across the phone and flicking out his mechanical arm to grab cute little fish junk robots. As the game progresses, your HP decreases. You need to continue getting junk to keep yourself alive, despite the increasing size and scope of your enemies. Some cause damage to you as you go higher in levels, while others may give you upgrades or performance boosts.
Graphics & Audio
The main draw of Mech Guardian and the main reason why one would want to pay $2 for the privilege of playing would have to be the graphics and sound. While we don't usually play an iPod touch, iPad or iPhone app for its sensually immersive qualities, Mech Guardian is a step above most. Evocatively moody ambient tunes match up perfectly with a sense of rich cyberpunk, post-apocalyptic lushness. One gets a sense of being the only lonely being in an overgrown world, just picking up trash.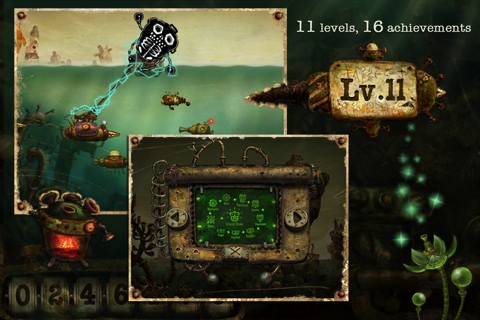 Gameplay
Indeed, that's all the gameplay of Mech Guardian amounts to – picking up trash in varied and unique ways. It starts out like a spear fishing app, with little fish swimming below you. You have to time your arm's "stab" just right to catch the fish, and there's a satisfying learning curve as you begin to intuitively grasp the timing. The game's difficulty curve is satisfying, though one gets the sense of, "is this it?" after about twenty minutes. You're basically doing the same thing for the entire course of the game, though the timer adds a sense of excitement as you're trying to beat the clock. Kill monsters, get junk, stay alive, kill monsters before the clock runs out. While this is par for the course for the standard iPhone application, one can't help but hope for a sense of varying gameplay, especially in a paid app.
Overall
Ultimately, Mech Guardian is a great little title if you love iPhone & iPad games. If you enjoy iOS games with a simple, repetitive strategy that have a nice difficulty curve, smooth controls, and excellent graphical and auditory ambiance, then Mech Guardian is definitely worth downloading.
I'm not sure it was worth the $2 I paid, but it was by no means a waste either. The major downside to Mech Guardian was that it felt repetitive and vaguely pointless after a few minutes.