Vampires, the other overused monster appearing in various forms of entertainment. Like its zombie counterpart, the Infect Them All: Vampires app for iPhone, iPad and iPod touch from Magic Cube has you controlling a head vampire while trying to turn your enemies into allies. There are several differences between this version and the zombie version of the game. There is more variety in terms of gameplay and enemies. Infect Them All: Vampires by Magic Cube is for the iPhone, iPod Touch, iPad and requires iOS 4.0 or better.
Vampires is similar to the first app, Infect Them All in a few ways. You can still choose between tilt with auto or fixed calibration or joypad. I chose joypad since it's the most comfortable for me out of the three control styles. There are three vampires to pick compared to the five or six zombies. I wish there were more characters to pick but each one offers something different. You have to infect a certain number of humans to unlock stuff such as a character, survival and blitz mode. Being a vampire isn't easy since turning humans is not as easy as eating brains. From my experience your vampire minions are unable to convert humans so the game is a bit slower. In exchange you get a special attack which requires a bar to be refilled overtime. Your special attack can be upgraded through a skill tree.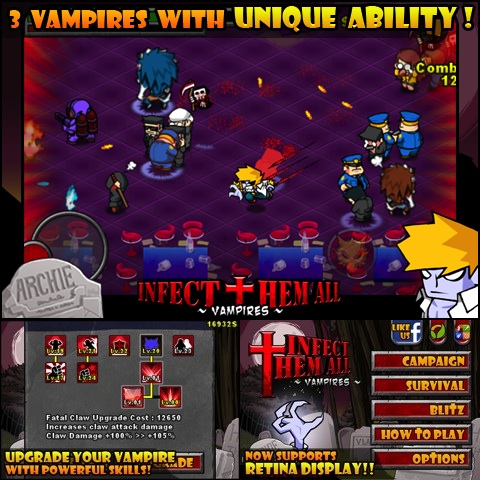 Each vampire has his or her unique tree. One vampire has a dashing attack, another has the character turn into a swarm of bats and the third has bat missiles. The enemies are frustrating at times since they are stronger, brutal and have their own abilities. This is especially true the more stages you play. When humans are angry, they push you away so it's more difficult to infect them. This can occur after some time has passed. Also be careful of status effects such as stun and panic. When a grim reaper symbol hovers over a human's head, it means he or she is about to die so you have to act quickly to infect or recover life since your minions might kill it. Unlike the previous version, combos do not need a minimum of ten hits and they give more cash. This app supports Game Center and OpenFeint for achievements and leaderboards. Overall, this game plays just like the original with a few tweaks that makes it more enjoyable.
The graphics for Infect Them All: Vampires are similar to its predecessor. They look a lot crisper to me and the background has a little more detail. One setting has posters and another has a S.O.S. message. Despite this small change, I still feel the background is lacking. From my playthrough, I didn't see any pixilation. I like the variety of enemies in this one more than the zombie version. There are police officers, snipers, characters that look like Blade and Superman, and many more. The blood is still there so just in case someone who doesn't like it, you have been warned. There is no way to turn the blood on or off at the time of this review. I would like to say the graphics are improved compared to the last game.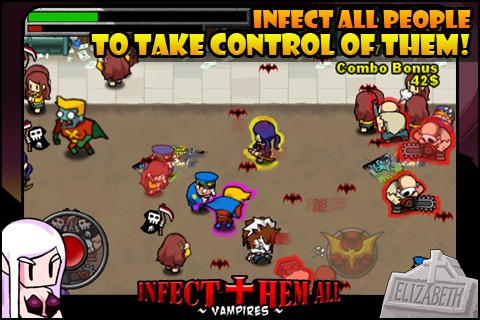 The audio for this app is the same as the first game. I didn't notice anything different. I was hoping for iPod music support but sadly that hasn't been implemented. The music and sound effects are fine but the music can be repetitive and boring after awhile. I hope a new update will change things up a bit in this department.
Infect Them All: Vampires is $0.99 on iTunes' App Store. The free version is available if anyone wants to give this game a shot. You can replay a stage to earn money for stat upgrades, get a higher score, and to try to get three stars. The stars are based on how fast you beat the stage, how many humans you've infected, and how well you dodge enemy attacks. I think this is a much more enjoyable experience compared to the zombie version with improvements such as skill variety and improved graphics. There are also more humans to hunt than before. If there is an update or new game, I hope Magic Cube will improve the audio portion of the game. All in all, Vampires is a more enjoyable concept in the Infect Them All games series and I highly recommend it.