In the wake of Trials HD's success on the Xbox 360, many similar games have appeared in the mobile space, with the latest app being TrialX2 Winter Free by Deemedya, available for free on both the iPhone and iPod touch. In TrialX2 Winter Free, your objective is to race a motorbike across five winter themed tracks in an attempt to get the fastest time and the highest score. In addition, there are also three star icons to find on each map.
TrialsX2 Winter Free offers two types of controls: button and tilt. The button controls work well; they are situated off to the sides of the screen and feature buttons for accelerating, stopping, leaning and jumping. Jumping is a unique addition to this genre and allows Deemedya to add a little bit of variety to their courses and is pulled off extremely well. Unfortunately, the tilt controls do not work nearly as well as the buttons; the controls are far too sensitive, leading to situations where your rider is leaning too far in one direction, resulting in a crash.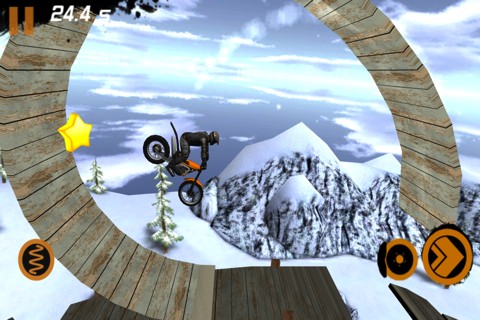 TrialsX2 Winter Free is missing some of the other features you would see in another iPhone app of this genre. While most games rate you in stars based on how quick you finish the course, TrialsX2 Winter Free merely gives you your time and a set of points. It's unclear how points are calculated, but regardless they are not used for anything as all five courses TrialsX2 Winter Free are open at the start, hurting replayability as there is no incentive to improve. Throughout each course are three stars in out of the way locations, but finding all three in a course does not grant anything either. In addition, the application only saves the number of stars you find in your most recent attempt.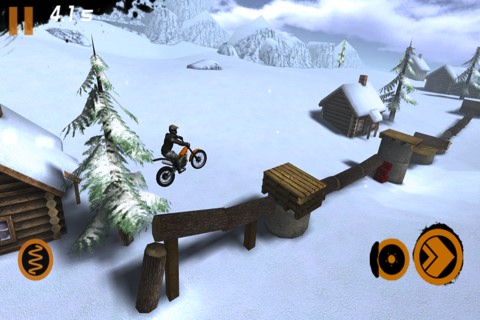 Graphically, TrailsX2 Winter Free is a good looking application. All five levels are winter based and display detailed backgrounds and character models. The physics engine used in the game is impressive but unfortunately, it's common for your rider to get stuck on the environment, prompting a restart. The sound is a mixed bag; the sound effects of the motorcycle sound authentic but the game's one heavy metal music track will quickly grate your nerves.
This review was performed on an iPhone 4 with iOS version 5.1 and no abnormalities, like freezing, were present in this iPhone app.
As a demo to TrialsX2 Winter Edition, Trials X2 Winter Free only offers five levels but allows you to get a feel for the full game. Unfortunately, this app is lacking in key areas of this genre which makes it difficult to recommend regardless of the cost.