Looking for a fun way to pass time until the end of time according to your preferred doomsday prophet? TheEndApp game for iPhone, iPod Touch, and iPad hones your survival skills, as you navigate a fiery, barren cityscape with responsive gesture controls to gather duct tape.
Infused with a sense of humor, TheEndApp's developers at Goroid, have created a quality, apocalyptic ambience. The soundtrack is straight out of a late-night Sci-fi movie and adds dimension to your experience. The 3-D graphics bring an interesting perspective with the crisp, detailed images and action in the foreground juxtaposed with a hazy, scorched horizon. The dense, filled home screen is reminiscent of a breaking news television screen completed by a running news highlight bar that shares funny apocalypse-related news items. There is a tally of successes and failures, options to play the game, a small Game Center icon, and settings access as well. Your options to play the game are blinking and highlighted. If you have the free version, then you will have fewer available options. If you upgrade to the Pro Version for $1.99, the game play opportunities increase dramatically.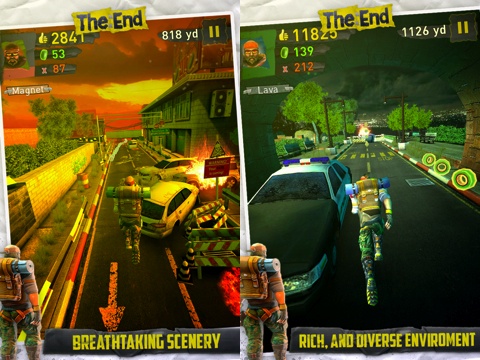 The game play of TheEndApp's iPhone app is extremely easy and agile. You run through the city and guide your He-Man meets Hulk Hogan character by tilting your iPhone to the right and left. If you need to jump over a flaming obstacle like a car or oil can, you swipe up. If you need to slide, you swipe down. The gesture controls required for upcoming obstacles in the preliminary trainings are explained in pop-ups on the screen and timed to give you ample warning. TheEndApp's gesture controls and gaming interface do not break the mold, but they are accurate, responsive, and accessible to a broad audience. You can share with Facebook and Twitter, as well as compete through Game Center.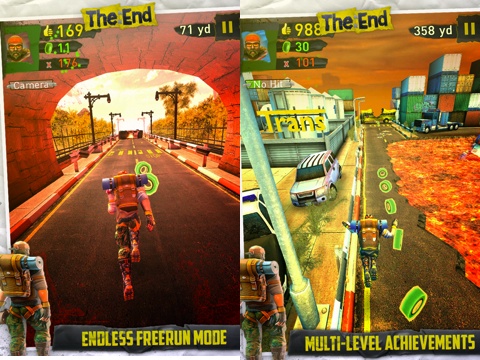 TheEndApp's iPhone app does have a couple of problems to address. It places a lot of energy and time in poking fun at apocalypse paranoia with its news feed and language throughout TheEndApp. Unfortunately, there are a lot of misspellings, missed key strokes, and oversights including the "Bacis Skills" section. The sense of humor is a great aspect of the game, and an attention to detail and a bit more finesse would make these details shine more. The free version has limited options, and you have to make in-app purchases to access the best power-ups and infinite levels to enhance your experience. TheEndApp is definitely worth the $1.99 price tag without the free download and endless in-app upgrades for duct tape and increased gaming options. Finally, TheEndApp would benefit by adding more physics-controlled gestures in advancing levels to bring more excitement and challenge.
TheEndApp's apocalypse is appealing, addictive, and fun, and it's certainly worth a try as you await the end.